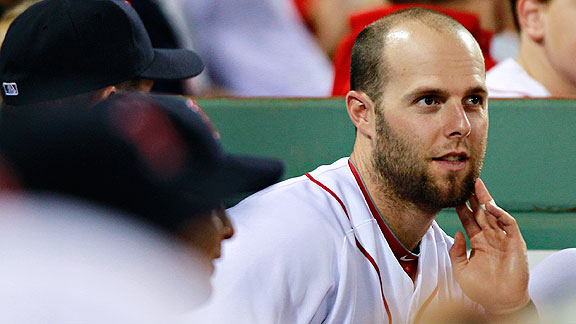 AP Photo/Charles KrupaWas it wrong for Dustin Pedroia to leave a spring training game to get something to eat?
FORT MYERS, Fla. -- It was not a question Terry Francona was expecting Saturday afternoon.
Did the Boston Red Sox manager have a rule against a player coming out of a game and going to the concession stand to buy hot dogs?
"No,'' he answered cautiously. "Not if he shares.''
Well, then, did Dustin Pedroia offer him a hot dog?
Francona turned to team publicist Pam Ganley.
"What did that little rat do?'' he asked her.
What Pedroia did, after coming out in the top of the sixth inning against the Florida Marlins, was to emerge from the back entrance of the Sox clubhouse -- the doors open into the main concourse -- stroll across to the nearest concession stand, and buy three hotdogs. Reporters headed to the clubhouse to interview pitcher Jonathan Papelbon nearly bumped into him as he was carrying his snack back.
"I was starving,'' he said.