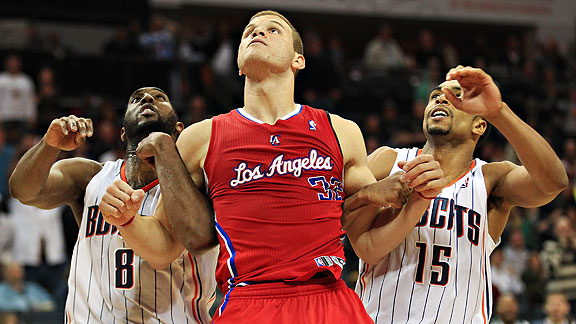 Streeter Lecka/Getty ImagesArm-in-arm they go, Blake Griffin and the Bobcats. What's happening here?
At Page 2, we know you're funny, so share your gift. We'll find a great photo, and you provide the caption.
Charlotte's D.J. White and Gerald Henderson fight for position with Blake Griffin during the Clippers' 92-87 win over the Bobcats in Monday on Charlotte.
Give us your caption in the comments.
Yesterday: Our favorite from the photo of Dwyane Wade and LeBron James talking on the bench from user rickybojo: "Anyway, like I was saying, shrimp is the fruit of the sea. You can barbecue it, boil it, broil it, bake it, saute it. There's shrimp kabobs, shrimp creole, shrimp gumbo, pan fried, deep fried, stir fried. There's pineapple shrimp and lemon shrimp, coconut shrimp, pepper shrimp, shrimp soup, shrimp stew, shrimp salad, shrimp in potatoes, shrimp burger, shrimp sandwich..."