A new baby is cause for celebration in the sports world as well as the real world.
With the announcement that 2009 Horse of the Year and Preakness winner Rachel Alexandra is pregnant after breeding with Curlin, the Horse of the Year in 2007 and '08, Page 2 congratulates the owner of both horses, Jess Jackson, and trainer Steve Asmussen.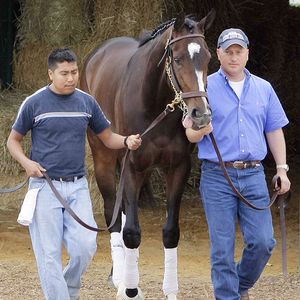 AP Photo/Garry JonesAssistant trainer Scott Blasi leads Rachel Alexandra to the Pimlico paddock with groomer Javier Espinoza days before her win in the 2009 Preakness Stakes.
Meantime, we caught up with assistant trainer Scott Blasi, who has worked extensively with Curlin and Rachel Alexandra, to get the skinny on a story that has the horse racing world abuzz.
Page 2: We're talking about a potential superhorse, the offspring of Rachel Alexandra and Curlin, but do these arranged marriages ever really work out?
Blasi: This had been planned. This is one of the reasons Mr. Jackson purchased Rachel Alexandra [in May 2009].
Do the children of these power couples often live up to the hype?
That's just hard to say. I'll tell you in three years.
Is the mother-to-be registered anywhere yet?
I don't know where you'd register. I've never answered these questions about a horse.
If a Rachel Alexandra fan would like to send a gift, what would you suggest?
Peppermints, apples or carrots. She's crazy about all three.
When will we know if it's a filly or a colt?
That would be a better question to ask the reproduction people. I think there's a certain gestation period where they can tell. It will definitely be announced. ... You hope that the baby's healthy and has the athletic ability of mom and dad.