With March Madness mere days away, it seems everyone is having fun creating their own versions of basketball brackets.
Colin Cowherd with bands. Snoop Dogg and his tournament challenge. And now even Playboy.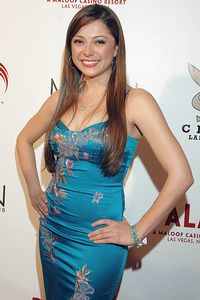 Steve Spatafore/Getty ImagesPilar Lastra wants your vote to win the Playboy.com bracket contest.
Playboy.com is helping people get into the spirit of March Madness with its Playmate bracket, aptly titled "NC Double-D 2011 Favorite Playmate Bracket!"
In this bracket, 64 Playmates go head-to-head through each round. Fans pick their favorite Playmates they believe should move on. Each round coincides with the NCAA rounds, with the first-round drawings taking place Monday. Playmates move on to the next round as determined by overall voting and bracket picks.
Genius, I say.
Will it be a popularity contest where people are going to vote for legendary models such as Pamela Anderson or some unknown beauty?
Pilar Lastra, Playboy Playmate of the Month for August 2004, said she should win and she has a simple answer why:
"I've got an amazing jump shot and you should see my 3-pointer!" said Lastra, now an actress and radio host. "Of course I already logged in and voted for me for every round. I want to win the championship!"
The fan who makes the most right selections will win a grand prize of a trip to Chicago to attend a Playboy photo shoot.
"This is a good idea, right? Why not bring fun and sexy back into the basketball bracket," said Lastra, who is finishing up her book "Treat Me Like Your Car … A Man's Guide to Treating a Lady," which comes out this spring. "And vote for me! Come on! I'm comfortable in my own skin. I'm not the typical Playboy centerfold. I'm naturally curvy and I'm all real! I'm the girl next door!"
I need to move into her neighborhood.