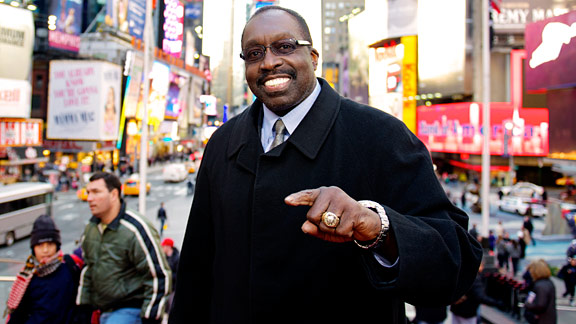 Felix Kunze for The People's Games Former NBA star Earl "The Pearl" Monroe headlines Team New York's quest to be the No. 1 sports city.
Hey you -- dude on the couch who thinks he can take it to the hoop like Kobe Bryant -- you're about to get your shot.
This weekend, "The People's Games," a new sports competition that offers non-professional athletes the opportunity to represent their cities in competition against other US cities is holding their inaugural tryouts this weekend. The idea is simple, it's like an "American Idol" for sports. It's a battle that aims to crown which city has the best athletes in various sports.
The initial launch will pit New York against Los Angeles, and the sport is basketball. The New York team will be coached by Earl "The Pearl" Monroe and the L.A. team coached by former UCLA/Lakers great Lucius Allen.
"New York, East Coast players are flashy, they're a lot more physical and a lot will depend on the flexibility that the officials are going to allow in this game. West Coast players, we're finesse players. We run the floor, we shoot the threes," Allen says. "We are going to reflect John Wooden basketball as I know it."
They haven't inked up with a network just yet, and as of right now, will be airing the stories they uncover reality show style online. No professionals can try-out, but former college athletes are welcome to come.
"The thing that compels me & is to give an opportunity for a guy to dream the dream. To provide and enable the guy to live out that dream of 'I could've once been great.' There's a real human endeavor," says Terry Jastrow, a seven-time Emmy Award winner, who has produced and directed six Olympic Games and is the Commissioner and Executive Producer of The People's Games. "If Kobe wins a game or LeBron wins a game, it's a good day at the office. But these guys play and it can be a life changer, it could be one of their watershed, seminal moments in their life."
Tryouts start on Sunday in New York and L.A.. Head to PeoplesGames.com for more information.
Final team New York City and Los Angeles rosters will be announced at the end of March.