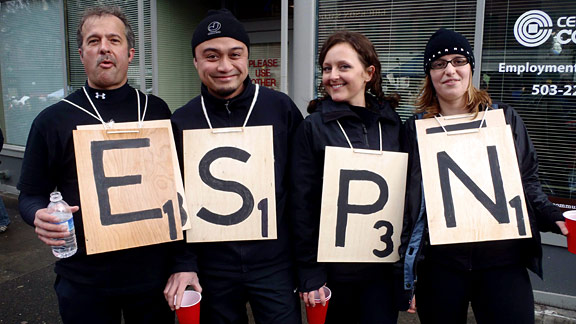 Raphael Kohan The Urban Iditarod definitely embraces it's not whether you win or lose, but how you play the game.
The sky was gray and rainy but one got the sense that crowds of 750 don't often gather under the Interstate, along the east side of the Willamette River. Not, at least, to avoid a late-winter drizzle. Two of Portland's finest had already taken notice, eyeing the crowd from a distance, though they didn't intervene -- apparently not wanting to distract these athletes before the event, the big race. Upon closer inspection, the crowd revealed a wide variety of competitors, some dressed as crayons, others as Angry Birds, all in costume. Pre-race preparation included curious chatter, excited giggling, heavy amounts of milling about, but a general lack of stretching. Hopefully no one would pull a muscle. Then, rather abruptly, we were off, 130 teams rushing past the police officers, and into the streets, dragging, pulling, and pushing temporarily absconded shopping carts with us. We wove through traffic, dodging raindrops and side view mirrors, as cars pulled to the side of the road, honking to no avail.
Welcome to Portland's Urban Iditarod, an annual shopping cart race, modeled on the 1,150-mile Alaskan Iditarod. On the Saturday after the sled dogs took to the frozen tundra, we took to the streets, with humans instead of dogs and shopping carts in lieu of sleds. Portland's first running took place in 2001, and a laundry list of cities across the nation, from New York to Cincinnati to L.A., now hold versions of the event, as well. The very first Urban Iditarod, however, took place in San Francisco, back in 1994, the brainchild of a Stanford graduate student named Tom Kramer, nee Marsh, a.k.a. Tundra Tommy.