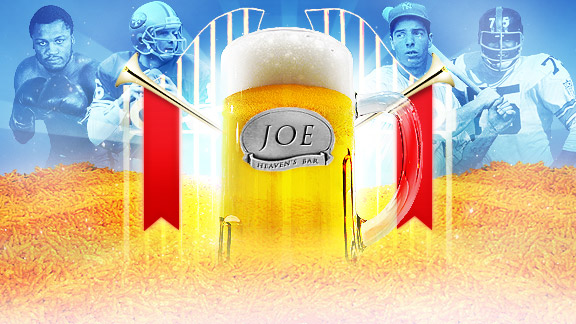 ESPN.com IllustrationThere are a lot of great names in the history of sports. But in Heaven's Sports Bar, even some Hall of Famers have to take a back seat.
Here at the only sports bar in Heaven, it's always Happy Hour and the tab never comes. The beer is colder than a DMV clerk's smile, the Cheetos bowl refills itself, and all the waitresses make Marisa Miller look like the "before" half of the ad.
The problem is, you can't get in.
It's reserved for the greatest names in sports history and even most of them can't get by Jack Dempsey, Our bouncer. If your personal beer mug isn't hanging on the wall, you are staying thirsty, My friends.
Problem is, there's only room for one Johnny mug, one Jim mug, one Jenny mug. One mug per name. Period.
So who gets the Joe mug: Montana or DiMaggio? Who gets Bobby: Orr or Jones? If your name is Kobe or Mia, don't worry, you're stool is waiting. But if you're a Mike, you've got some nasty competition.
Here's the list. If you're on it, your mug is chilling. If not, there's an T.G.I. Friday's three clouds down. Any arguing and We send more locusts.