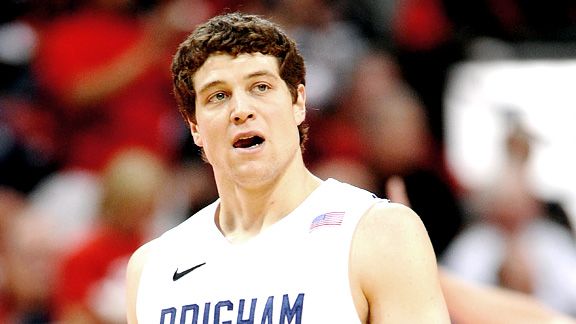 Ethan Miller/Getty ImagesCan Brigham Young's Jimmer Fredette join the elite fraternity of 50-point tournament scorers?
Last week, BYU's Jimmer Fredette scored 52 points against New Mexico in the Mountain West Conference tournament. Scoring 50 or more in March is a rarity, and if Jimmer goes off against the Cougars' first-round NCAA foe, Wofford -- ranked 176th in Division I scoring defense -- it would be the first time a player has scored 50 in the tournament since David Robinson in 1987.
It's a long shot, but Fredette can hit from long range. If he does it, he will join this honor roll:

1. 61 points by Austin Carr (Notre Dame) vs. Ohio U., 1970
Score: Notre Dame 112, Ohio U. 82
The stats: 25 of 44 on FGs, 11 of 14 FTs
Just saying: Ohio coach Jim Snyder, after the game, on how to stop Carr: "Deflate the ball."
Know this: Carr averaged 52.7 points in three tourney games in '70.

2. 58 points by Bill Bradley (Princeton) vs. Wichita State, 1965
Score: Princeton 118, Wichita State 82
The stats: 22 of 29 FGs, 14 of 15 FTs
Just saying: "I was trying to pass the ball to my teammates early on ... but a few minutes into the game [coach Butch] van Breda Kolff called a timeout and said, 'Look, this is your last game, shoot the ball.' And I did." After the game, ref Bob Korte reportedly told Bradley, "That was the greatest exhibition I ever saw. It was a pleasure to watch."

3. 56 points by Oscar Roberston (Cincinnati) vs. Arkansas, 1958
Score: Cincinnati 97, Arkansas 62
The stats: 21 of 36 FGs, 14 of 16 FTs
Just saying: After watching Robertson score 56 in another game that season, St. John's coach Joe Lapchick said: "There's never been one like him."
Know this: In 10 NCAA games, Big O averaged 32 points, 13 rebounds and 9.4 assists.

4. 52 points by Austin Carr (Notre Dame) vs. Kentucky, 1970
52 points by Austin Carr (Notre Dame) vs. TCU, 1971
Scores: Kentucky 109, Notre Dame 99; Notre Dame, 102, TCU 94
The stats: Carr vs. Kentucky, 22 of 36 FGs, 8 of 8 FTs; Carr vs. TCU, 20 of 34 FGs, 12 of 15 FTs.
Just saying: Carr has three of the top-scoring games in history without the benefit of the 3-point line. "With that short 3-point line in college, that's a layup. I would have loved to have played with that line," said Carr.
Know this: In scorefest loss to Kentucky, the Wildcats' Dan Issel had 44 points.

5. 50 points by David Robinson (Navy) vs. Michigan, 1987
Score: Michigan 97, Navy 82
The stats: 22 of 37 FGs, 6 of 12 FTs
Just saying: "Robinson is the best college player I have seen in my seven years at Michigan, and that takes in Patrick Ewing and all the rest," said Michigan coach Bill Frieder. "He is truly great."
Know this: It was the Admiral's final college game.