North Carolina coach Roy Williams doesn't seem the type to haphazardly drop "Zoolander" references.
Or to give wacky nicknames to Tar Heels walk-ons, for that matter.
But then again, this year hasn't been business as usual for Williams. Since the end of last season, four players left or were dismissed from his team. That left the Tar Heels with an unprecedented six walk-ons to just eight scholarship players.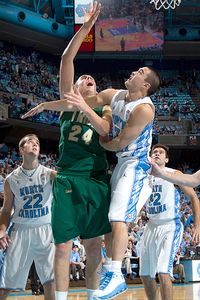 Peyton Williams/North Carolina/Getty ImagesDaniel Bolick contests a shot as Blue Steel gets some playing time in an 85-60 win over William & Mary in December.
And those six players -- D.J. Johnston, Stewart Cooper, Daniel Bolic, Van Hatchell, Dave Dupont and Patrick Crouch -- have become a small fraternity, collectively referring to themselves as Blue Steel, named after male model Derek Zoolander's trademark pose in the Ben Stiller movie "Zoolander."
Thanks to an attention-grabbing prank on teammate John Henson, in which they covered his car with 2,400 sticky notes, and a very funny, self-deprecating Twitter feed, they've become quite the cult heroes among Tar Heels fans. Their T-shirts, which show silhouettes of six players at the end of an empty bench and say "Feel the Steel," have sold out.
(Aside: The Blue Steel guys would like to make it abundantly clear that all the money from the T-shirt sales goes to charity, so there are no NCAA issues. That would be unprecedented: walk-ons getting one of the most storied basketball programs in hot water. "Oh my god, can you imagine?" Johnston says with a laugh.)
Johnston's father, Don Johnston, was a member of North Carolina's 1972 team that went to the Final Four. Getting a trip to the NCAA tournament with the North Carolina basketball team is a dream come true for him, and he says The Steel knows it has it good. They're as diehard as any Carolina basketball fans, but with better seats.
"We've got the best gig in college basketball," Johnston said. "We get all these sweet perks that everyone else [on the team] gets. Also we're on the team, which is a boost."