Allen Largin knows his strengths.
"I'm not an amazing basketball player; I'm just an average, high school basketball player," says the 6-foot-4, 16-year-old small forward for Brighton High School in Brighton, Mich. "I don't have the talent to play D-I."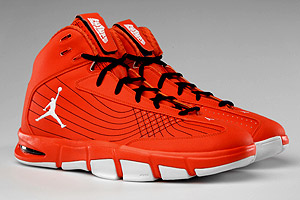 Courtesy of Jordan BrandAllen Largin of Michigan helped design this shoe for Carmelo Anthony.
Basketball is his love. But basketball shoes are his passion.
"My obsession with shoes started in eighth grade when … I started to get a new pair every couple of months," he said. "Not because they were worn down, but because I wanted a new pair. I really just loved shoes."
That love paid off in a big way.
The high school junior recently was crowned the Jordan Brand winner, as part of the Future Sole program, which is dedicated to giving high school and college students a chance to have their work seen by some of the shoe industry's biggest designers. Largin gets to see his shoe on the court at the Palace of Auburn Hills when superstar Carmelo Anthony wears it while playing against the Detroit Pistons, Largin's hometown team.
For Anthony, Largin designed the MELO M7, which features clean stitching (Largin says that represents the fluidity of Anthony's game), the Future Sole logo on the shoe's tongue and an Infiniti sign that is inscribed with the word "Chelle," in honor of Anthony's deceased sister.
Largin -- he plans on becoming a professional gym shoe designer and is already checking out design programs to figure out where he'll be applying in the fall -- will get to see his shoe launched in July. He also won $5,000 in computer equipment -- including a tablet to help him design more shoes -- and his school won $5,000, which he designated to go toward five $1,000 art scholarships for other students.
Largin has already met Anthony -- the player flew his family to Denver last November to watch the Nuggets take on the L.A. Lakers -- and he says he's stoked to see him play against the Pistons. And wear the shoes he designed for him, of course.
And as for who he's pulling for?
"Well …" he says, dragging out, "the Pistons aren't really in the mix right now. They've fallen off. I'm rooting for Melo because they're fighting for potentially a home-court game. And he's my favorite player in league right now."