He's made a career out of hurting people, but MMA legend and UFC Hall of Famer Randy Couture also also likes helping people who've been hurt -- specifically, soldiers, via his XTreme Couture G.I. Foundation.
One of its charity events, the Randy Couture Charity Poker Run, is coming up in May.
Couture founded the G.I. Foundation after visiting Iraq in 2005. The trip was arranged by members of the 101st Airborne, Couture's old unit from back in his military days. He served in the Army from 1982-1988.
He spent 12 days in Iraq, visiting about a half-dozen FOBs (forward operating bases). One FOB had wrestling mats, so he and the soldiers threw down.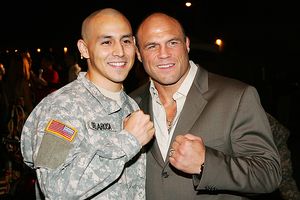 Getty ImagesU.S. Army Capt. Rudy De La Rosa poses with Randy Couture at the Xtreme Couture Training Facility in Las Vegas during one of Couture's charity events.
"When I came back, I wanted to find some way to help the ones that were hurt," Couture said in a phone interview. "Having been part of the military, I know how the bureaucracy works. Things fall through the cracks. I felt like we could put on some events and raise some money and some awareness. With a small organization like this, you can put that money directly into the hands of the people who need help."
Last Christmas, the Foundation gave 10 military families $10,000 each.
For the uninformed, poker runs, in a nutshell, involve motorcycling from one location to another to pick up playing cards until one has a full poker hand. And back at the starting point, as always with poker, best hands win.
So far Couture has invited most of the cast of "The Expendables", such as Jason Statham and Mickey Rourke. "Jet Li will be tough, he doesn't ride," Couture joked. He's also invited actors Kevin James ("Grown Ups"), Sean Patrick Flanery ("The Boondock Saints") and David Zayas ("Dexter"), plus MMA fighter Greg Maynard, MMA ref John McCarthy and many more.
It should be way more celebrity help than Couture had last year, when he was the only one. "And I don't even know that you could call me a celebrity," he said, laughing.
Prizes will include video games and systems from EA Sports, leather jackets from Affliction, a cash raffle, signed gear and more.
The run is May 7 at O School Choppers in Las Vegas. Registration, $25 per rider and $10 per passenger, starts onsite at 9 a.m. Couture's group leaves at 10 a.m. For more information, visit xcgif.org.