As an athlete, how would you like to go back in time to change history on a football field?
That's what former high school football star turned farmer Scott Murphy (played by Brian Presley) does in the movie "Touchback," which is out Friday in select markets.
On the game-winning play, Murphy -- the nation's best high school football player -- injures his knee and destroys his dreams of a future in football. About 15 years later, Murphy receives the opportunity to go back to change history.
Presley knows the story all too well himself. The 34-year-old actor graduated from Jenks (Okla.) High School in 1996 after winning a state championship as starting quarterback. He turned to acting after his sports career.
"I fell in love with this story when I received the script," said Presley, who is known for his role of Jack Ramsey on the soap opera "Port Charles" from 1999 to 2003. "I saw so many similarities to what I went through. I know people will be able to identify with this. It's a love story."
Kurt Russell, Marc Blucas and Melanie Lynskey also are in the film, which was written and directed by Don Handfield.
The movie is a sports version of "It's a Wonderful Life," and Presley is hoping people who are not sports fans come out to watch.
"Football is an all-American sport, but the great thing about this movie is a lot of the action is away from the field," he said. "I thought the movie is very moving. It's about community. It's about family. It's about our country."
Matt Kemp sees himself in Sony's "MLB 12: The Show" and all he can do is grin.
"They have my batting stance down perfect. They have my swing. It's me in that game," Kemp tells me with a laugh. "And he's a pretty good looking dude ... at least I would say so."
And when Sony found out that Kemp and his Los Angeles crew of gamers have been playing "The Show" since the game hit last month, the company presented Kemp with his very own customized PlayStation 3 that looks like it was made out of the slugger's wood bat, complete with baseball-themed controller, a new Vita, and a sweet PlayStation case that even features it's own foul line.
"This thing is so pretty, I don't even want to take it out of the box," Kemp says, still in awe by the lavish gift. "It's wood grain with my signature on it. It's one of the coolest systems I've ever seen. This thing even has grass and fake dirt surrounding it. It's unbelievable."
Jon Robinson: Are you a big video game player?
Matt Kemp: I used to be bigger into playing, but I still play a little bit. It's tough during the season to find as much time as I want to play video games, and when I do get some free time, I like to sleep. But there are a lot of Dodgers who are into that new Vita system. They're playing "MLB 12: The Show" all the time. They're always playing against each other.
First time I went on "The Show," I couldn't believe how accurate they have everything. From the stadiums to all of the batting stances, it feels like you're actually watching a game.
Jon Robinson: Did you play a lot of the baseball video games as a kid?
Matt Kemp: I did, but my mom and my grandma used to make me go outside and play a lot. So I'd have to go over to my friend's house to play video games. If I was at my house, my parents and my grandparents made me go out and play, and I'm glad they did that because it helped make me who I am today, playing big league baseball, so I'm good for that.
But I remember how much I loved the Sega Genesis and "Sonic The Hedgehog" and Nintendo with "Super Mario Bros." Those were my games. My favorite game that I used to love was "NBA Jam." That was the Sega Genesis game I couldn't get enough of. With all the players jumping so high and doing flips and dunking, that was my game. "NBA Jam" was so dope. He's on fire! [laughs]
WHAT'S HOT ON FACEBOOK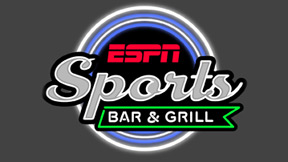 ESPN Sports Bar & Grill
Create the ultimate fan experience! Get ready to build the "Sports Bar & Grill" of your dreams: design your venue, fill it with sports gear and team spirit, tune in live ESPN radio, and follow your favorite team. ESPN Sports Bar & Grill »