While at the University of Mississippi around 2000, Josh Kelley came to a fork in the road: continue attending school on a golf scholarship or give up the sport he loved to focus on music.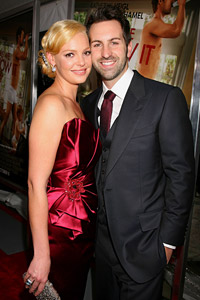 AP PhotoJosh Kelley has been married with actress Katherine Heigl for three years. They have one daughter.
With the release of his first major-label CD -- "Georgia Clay" -- on Tuesday, it seems he made the right choice.
"Growing up in Georgia, I'd go to school and come home and play golf. Then I'd jam with my younger brother [Charles Kelley of Lady Antebellum] all afternoon," said Kelley, 31. "Golf and playing music went hand in hand for me."
But, after a year at college studying art, "I started showing up late for golf practice and sometimes not showing up at all," he said. "My coach knew I didn't have the heart for it anymore. I realized that my voice was more unique, and music became all I ever wanted to do."
So, while in college, Kelley wrote his first hit "Amazing," which led to a recording contract with Hollywood Records. His debut album, "For the Ride Home," was released in 2003. He then launched his own label and released a handful more albums to moderate success.
On Tuesday, he released his first country CD. The first single, "Georgia Clay," already has become a hit.
"Golf has made me more of a gentleman and patient in everything I do," said Kelley, who married actress Katherine Heigl in 2007 and has one child. "I love to make music for music's sake. Even if I lived under a bridge, I'd be making music."