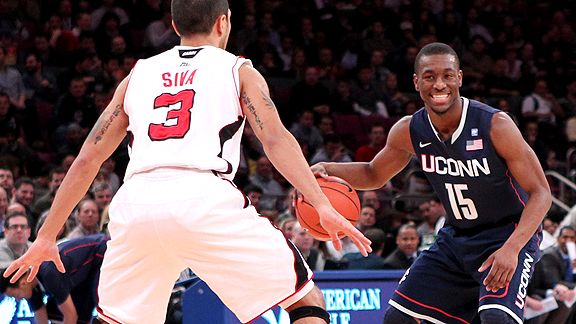 Anthony Gruppuso/US PresswireKemba Walker can be traced back to the Wizard of Westwood in just five steps.
John Wooden's impact on college basketball and the NCAA tournament can still be felt today, long after he won his record 10th championship at UCLA. Don't believe it? Try playing the "Six Degrees of Kevin Bacon" game -- substituting Wooden for Bacon -- with some of the stars of this year's tournament. All roads lead back to the Wizard of Westwood in six or fewer steps for these six standouts. Even Bacon is connected to the Wizard:
Kemba Walker, UConn
(1) Walker plays for coach Jim Calhoun; (2) Calhoun coached Ray Allen at UConn; (3) Allen plays for the Boston Celtics, for whom Danny Ainge is the president of basketball operations; (4) Bill Walton was an Ainge teammate on the Celtics; (5) Walton played for Wooden.
Kyle Singler, Duke
(1) Singler plays for a coaching staff that includes assistant Chris Collins; (2) Collins is the son of former NBA star Doug Collins; (3) One of Doug Collins' teammates on the Philadelphia 76ers was Henry Bibby; (4) Bibby played for Wooden.
Jared Sullinger, Ohio State
(1) Sullinger plays for coach Thad Motta; (2) Motta coached Greg Oden at Ohio State; (3) Oden now plays for coach Nate McMillan on the Portland Trail Blazers; (4) A teammate of McMillan's on the Seattle SuperSonics was Alton Lister; (5) Lister once was a teammate of Marques Johnson's while both played for the Milwaukee Bucks; (6) Johnson played for Wooden.
Kawhi Leonard, San Diego State
(1) Leonard plays for coach Steve Fisher; (2) Fisher coached Chris Walton, a son of Bill Walton; (3) Walton played for Wooden.
Brandon Knight, Kentucky
(1) Knight plays for coach John Calipari; (2) Calipari was an assistant to Larry Brown at Kansas and the 76ers; (3) Brown coached at UCLA, where he became friends with the retired Wooden.
Jimmer Fredette, BYU
(1) Fredette plays for coach Dave Rose; (2) Rose played at the University of Houston with Clyde Drexler; (3) A Drexler teammate with the Portland Trail Blazers was Mychal Thompson; (4) Thompson played for the L.A. Lakers with Kareem Abdul-Jabbar; (5) Abdul-Jabbar (Lew Alcindor) played for Wooden.
Kevin Bacon, actor
(1) Bacon was in the basketball movie "The Air Up There"; (2) Technical adviser on the movie was Bob McAdoo; (3) McAdoo once was a teammate of Abdul-Jabbar on the Lakers; (4) Abdul-Jabbar played for Wooden.