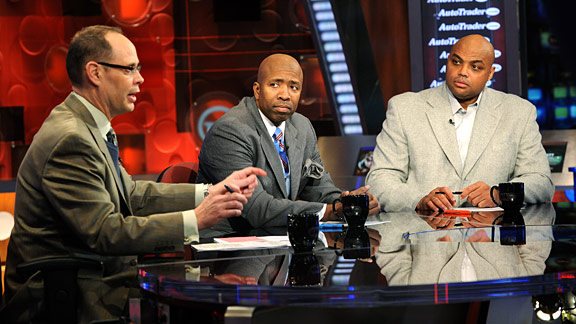 AP Photo/Erik S. LesserErnie Johnson, left, Kenny Smith, center, and Charles Barkley in the TNT studios.
Kenny Smith is halfway through his first gig as a college basketball analyst, and he has heard all the concerns about his TNT NBA crew doing college games.
Smith, alongside longtime partners Ernie Johnson and Charles Barkley, has found one big difference -- although it's not related to basketball.
"I'm enjoying it. I think it's a lot of fun. It's work, though. It's really hard work because of the hours, not because of the games," Smith said, adding he would've been watching all these games anyway. "We went 16 straight hours with only four-minute breaks. That's just physically tough," he added, laughing that it's sometimes hard to cram a bathroom break into four minutes.
As far as the basketball goes, it's just a matter of tempering expectations.
"I think the difference is probably to my analytical eye," Smith said. "NBA players are supposed to do things and college players are learning to do things. Kobe Bryant should know how to defend a pick and roll. College players, like [BYU's] Jimmer [Fredette], they might not know that yet."
But Smith thinks the experience overall should help him with the NBA gig. "It's only going to help you for the NBA because you have a better association with these kids," he said.
The other difference is the passion college fans have, which he sees in reactions to things he says. "They take it more personal," Smith said.
Smith sees that passion working with Coke on the Coke Zero Social Arena, an interactive site where fans can watch the tournament games and interact on Twitter and Facebook.
And he knows about passion, having played on three Elite Eight teams at North Carolina. He says he still hears grumblings from Carolina fans when he picks Duke to go to the Final Four, as he did this year.