You probably follow sports. So you know that Dez Bryant is not a 13-year-old kid from the suburbs. He is 22. And an NFL star. And a millionaire.
Yet apparently he likes to spend his free time just like the Justin Bieber set: hanging with his friends at the mall. He gets into a lot of trouble there, too. He was ejected from the mall Saturday after mall security told him and his friends to pull up their pants and they started an argument. Past police reports show he has a long history at the mall, from cutting in line to parking in a fire lane to causing a disturbance at a mall restaurant. Really. I wish I was kidding.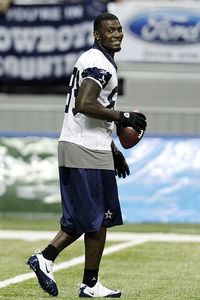 AP Photo/Tony GutierrezDez Bryant, in happier times (when he wasn't at the mall).
I shudder at the havoc that he and his friends could continue to wreak on the mall. Anything is possible. Just imagine:
• On a peaceful Sunday in the food court, Bryant shouts angrily at mall manager after the manager refuses to open the Chick-fil-A for him.
• Several minutes later Bryant returns to the food court and causes a commotion at the Panda Express when they won't sell him panda fried rice.
• Later he gets thrown out of the Build-A-Bear Workshop after bending all of the bears' legs to "make them like Jay Cutler."
• After stopping at Spencer's with his friends, Bryant is caught putting "Gas Pills" in a mall security guard's coffee.
• Bryant and his friends are asked to leave Victoria's Secret after they stand outside the store's dressing rooms for 20 minutes giggling.
• The receiver is kicked out of Claire's after yelling at the cashier over the fact that the store doesn't sell plastic key chains with "DEZ" on them.
• Bryant throws a tantrum at an FYE, enraged that a store that charges $18.99 for CDs can somehow stay open in 2011 in this economy while other businesses are failing all across the country. (Which is really a somewhat justified tantrum.)
• On his way out of the mall, Bryant knocks over an elderly woman while running to get into his mom's minivan to go home.
All of this hasn't happened yet. But it could. And will if Bryant isn't immediately grounded. Or, better yet: Jerry Jones needs to buy Bryant a car. Or, best of all: introduce him to girls. Bryant will forget about the mall soon enough.