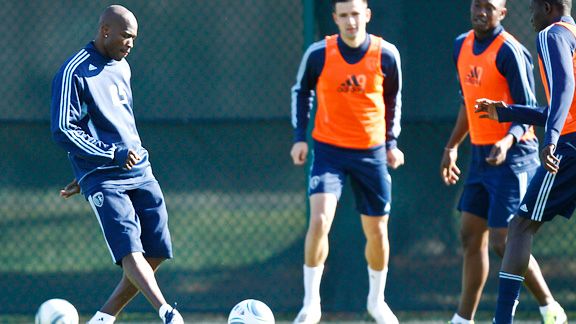 AP Photo/Ed ZurgaCincinnati Bengals wide receiver Chad Ochocinco practices with Sporting Kansas City on Wednesday.
KANSAS CITY, Mo. -- In the final minutes of his first day, Chad Ochocinco dipped into a crouch and waited for the chilly morning air to refill his burning lungs.
He was surrounded by professionals -- soccer players from Brazil and Denmark and Guadeloupe -- and the first scrimmage of his would-be soccer career was nearly complete.
It was a few minutes past 11 a.m. on Wednesday, and as Ochocinco emerged from his fetal position, Sporting Kansas City's morning training session continued.
More than 100 yards away, past the white lines of the field and past the chain-linked fence with the green windscreen, a man named Matt Flaharty looked past his obstructed view and focused in on his favorite wide receiver.
Flaharty wore a Cincinnati Bengals jersey with the No. 85 on the back. He had shown up hours earlier, waiting on the outskirts of Sporting Kansas City's expansive practice facility in the south part of town, straining to catch a glimpse of Ochocinco.
Flaharty, a Bengals fan in enemy territory, had the same curious feelings as everyone else.
Was this four-day trial with MLS's Sporting KC for real? Was it a publicity stunt? A way to stay busy during the NFL lockout -- a work stoppage that could go on all summer? And, of course, the obvious: Can Ochocinco, a Pro Bowl wide receiver -- an NFL player who hasn't played competitive soccer in more than 15 years -- compete with seasoned pros?