The crooked pinkie finger on Shawn Marion's left hand has been dislocated so many times and over so many years that the Matrix can't keep his story straight as to when it first went sideways or where it happened or even how it happened.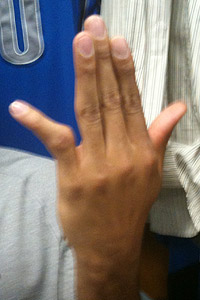 Jeff Caplan/ESPNDallas.comShawn Marion can't remember the first time he dislocated the pinkie on his left hand. He said it doesn't affect his ballhandling.
"When did I first mess this up?" the Dallas Mavericks' small forward asked himself after being asked the same question. "When I was little, maybe. I think when I was little. Yeah, when I was little, dislocated it. Maybe 9 or 10. I probably was playing basketball, or soccer or like kickball or something; dodge ball. I don't remember. I know I was playing some kind of sport with a ball. Football. It was football, playing catch."
OK, then.
Fast forward to the NBA and Marion's left pinkie finger has countless times been snagged, dragged, jammed and jimmied so many times that the knuckle is permanently the size of a lopsided acorn and over time, with each fresh knock, the finger itself continued to tick to the left like a slow-moving clock hand, only counter-clockwise.
"It's facing 10 o'clock," Marion said. "More like 11 o'clock."
Nah, definitely 10 o'clock.
When he holds up his hand, it looks like he's communicating by space alien hand signals. The pinkie bent to its current state of grotesqueness earlier this season, but, naturally, Marion can't remember exactly when or how it happened.
• Click here to read the entire story from ESPN Dallas
• Click here to see a gallery of amazing athletic scars and body parts from ESPN The Mag