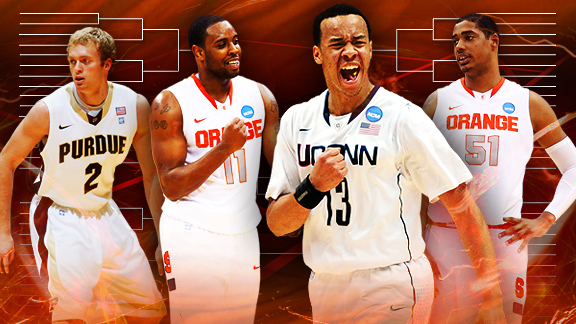 ESPN.com Illustration
Thursday is the final day to vote in the Final Four of Page 2's Coolest Name in the NCAA Tournament bracket.
We began with 64. Now we're down to four.
Meet our regional champions:
• Scoop Jardine, Syracuse (No. 3 seed, Dallas Comegys region champion): Jardine, a junior guard from Philadelphia, averaged 12.5 points and a team-best 5.9 assists in 32.1 minutes per game for the Orange this season. One of his grandfathers, Isaiah Wilson, played professionally for the Detroit Pistons and the ABA's Memphis Tams.
• Fab Melo, Syracuse (No. 1 seed, God Shammgod region champion): Fabricio de Melo is a freshman 7-footer from Brazil who attended high school in Florida. He averaged 2.3 points and 1.9 rebounds in 9.9 minutes per game and is enrolled in Syracuse's College of Arts and Sciences.
• Shabazz Napier, Connecticut (No. 8 seed, Uwe Blab region champion): Napier is a freshman guard from Boston, who's averaging 8.0 points and 3.0 assists in 23.6 minutes per game this season. He was named to the Big East all-rookie team, and his musical tastes range from Marvin Gaye to Wiz Khalifa.
• Bubba Day, Purdue (No. 15 seed, Ruben Boumtje-Boumtje region champion): Day is a walk-on guard from West Lafayette, Ind., who played 16 minutes as a junior for his hometown Boilermakers. The perimeter specialist and management major went off to the tune of three points each in Purdue's wins over Austin Peay and IPFW.
So cast your vote before the 10 p.m. ET deadline. It's your civic duty!
• Click here to vote in the Final Four of the Coolest Name in the NCAA Tournament bracket
• Click here for the complete bracket and results from previous rounds