Welcome back to another edition of Page 2 Jeopardy!, the quiz that tests your knowledge of sports, pop culture and assorted trivia. Please remember to phrase your responses in the form of a question.
(Correct questions at the end of the quiz.)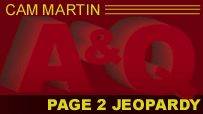 1. Answer: Of 13 years old, 23 years old or 73 years old, the age of Igor Walilko of Poland, who is challenging a two-year ban from kart racing after testing positive for a banned stimulant.
2. Answer: Frustrated after a screaming baby interrupted his concentration during a tennis serve, David Ferrer reacted by doing this.
3. Answer: 17-year-old Christopher Jacome's attendance at a soccer game in Colombia was notable for this reason.
4. Answer: For the first time in two decades, this once-elite college football program will host a night game this season.
5. Answer: In what might have been a possible homage to this movie, two superstitious high school baseball players in Texas were kicked off the team after sacrificing live chickens to break out of slumps.
Question 1: What is 13 years old?
Question 2: What is hitting a ball in the baby's direction?
Question 3: What is he was dead and his friends stole his coffin from the funeral parlor and brought him to the game?
Question 4: What is Notre Dame?
Question 5: What is "Major League"?