CHICAGO -- Question: What do trying to become Miss America and running up 180 fights of stairs have in common?
Answer: "If you're going to do this well, you have to be in great shape," said Miss Illinois 2008 Katie Lorenz. "The same thing with Miss America, you'd better be in the best shape of your life if you're gonna be in front of millions of people in a swimsuit."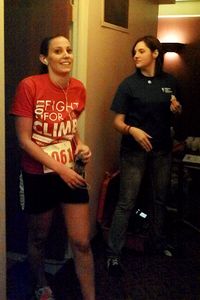 Matthew LindnerFormer Miss Illinois Katie Lorenz at Chicago's Presidential Towers, after climbing 45 flights of stairs for the American Lung Association's Fight for Air Climb.
Lorenz and two-time Miss Illinois Michelle Lagroue-Conradt joined 1,500 others at Chicago's Presidential Towers for the American Lung Association's Fight for Air Climb on March 27.
Their mission? Scale 45 flights of stairs in the complex's four towers as fast as possible.
If just the thought of that sounds exhausting, the only woman to be named Miss Illinois twice says it is. And true to the event's name, she says she found herself often fighting for air.
"There's not a lot of oxygen in that stairwell," quipped Lagroue-Conradt.
Lorenz, who is also the ALA's communications manager, practiced by scaling the stairs of her boyfriend's high rise once a week.
"It's a totally different game in a stairwell than it is on a Stairmaster," she said.
And while you can take the beauty queen out of the pageant, you can't take the pageant out of the beauty queen.
Five minutes after running up 2,340 stairs, the two former Miss Illinois winners were striking that signature pageant pose in the lobby. But not for a photo shoot.
"The Miss America training really came into play," said Lagroue-Conradt. "To pose, give yourself a waist because it slims your waist if you put your arm high enough. It (helped with stair climbing because it) reduced the resistance."
"She kept telling me 'Katie, put your arm like this'," Lorenz added as she dramatically placed her hand on her right hip at a 45-degree angle.
As she's striking this pose, a crowd of women wearing crowns adorned with Justin Bieber's smiling face walk past. The pair know plenty about tiaras, but on Sunday, theirs were collecting dust at home.
"I tried to get Katie to wear the crown and she wouldn't," said Lagroue-Conradt. "Maybe next year."