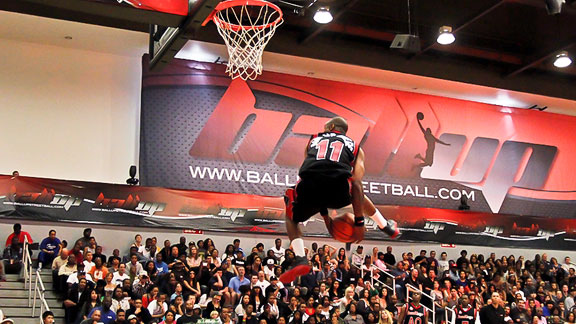 courtesy of Fox Sports NetAir Up There throws one down on the new show about streetball on Fox Sports Net.
The main difference between NBA hoops stars and streetballers?
Big deal salaries aside, streetballers have cooler names. Where else on a roster will you see names like Professor, Air Up There, Hotsauce and Sik Wit It? On Sunday, the 2011 Ball Up Season premieres on Fox Sports Net. The 10-game season will feature Ball Up Superstars -- a team made up of top streetballers from all over North America -- going head to head with other top streetballers. NBA players, including Tracy Murray, Rick Fox and Lakers' guard Matt Barnes, will coach.
Sik Wit It (you know you love the name, too) chats with Page 2 about what the street ball dudes have over NBA players.
Who does the game better and why? I know you're biased, but …
"Street ballers. We stand out also for the simple fact that we entertain more. The fans are able to reach out to us closer, come to us, shake our hand, hug us after the game. But I would love the NBA money!"
A layup in street ball isn't just a layup. How do you come up with these moves?
"Practice makes perfect, or I should say that perfect practice makes perfect. We've just realized how many different ways to see a layup, because the fan gets tired of just seeing a regular layup. So I may think to hit it off my head and do a layup, or hit it off my knee or spin it off my finger and slide it in off the backboard. I just want to make the fans say 'Yo! that was really nice!' "
Do you have a signature move or play that you do?
"One of my signature moves is called the 'now-you-see-it-now-you-don't. It's a pump fake to the right, and I dribble the ball, but I slide my body in front of the ball. I bounce it for you to see it, but then when I slide in front of it, now you don't. Then I snatch it back."
What is your rehearsal like to come up with some of those moves?
"The fun moves they coincide with hip hop and R&B, so I listen to music that goes well with basketball. So I can sit there and have my headphones on and think of new moves to do. It's kind of like choreography. When I bounce the ball, I hear the beat bounce, like 'boom, snap, boom, snap.' And I'm hearing the beat and I think of something new to do, because I know the fans are looking for me to do something new every time I touch the ball."
Why should people watch this new series?
"The street ball aspect has been off TV for so long that it's gonna be a big thing for it to be back on television and people not gonna wanna miss it. They're gonna wanna see it for the simple fact that the're going to see dunks that they've never seen before."