You confuse me.
Why aren't you going bananas over the Barry Bonds' trial? It is so sleazy. Don't you love sleaze? Trust me, "Law & Order: Los Angeles" would kill for this kind of stuff.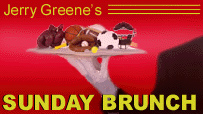 And the sleaze peaked this past week with former Bonds' girlfriend Kimberly Bell's testimony. Kimberly attacked Bonds' stature as a man, speaking of his back acne, his scalp hair falling out, his chest hair turning gray and his shrinking testicles.
Come on, guys, can you say "Ouch?" Could you handle that Final Four of Manliness Failure being made public in court? That's far worse than those beer commercials where the female bartender makes fun of your dragon.
And which of the four is the worse? Surprisingly, my vote goes to back acne. At my age, the other three are no longer relevant.
While you divide into small groups to debate this, here are a few more tidbits before we get to the main courses of the Brunch provided by some of our best journalistic chefs:
• Sadly, the Cleveland Indians have been mathematically eliminated. Seriously, you do the math -- they gave up 23 runs in their first two games and attendance fell from 41,721 in the opener to 9,853 in Game 2. Cleveland knows "pathetic" when it sees it.