MIAMI BEACH, Fla. -- Dwyane Wade remembers his first Air Jordans.
It was the late 1990s. And after years of trying on other people's, the teenage Wade finally got to wear his own Jordans (the XIII model, he said) during a holiday tournament.
No surprise: As he remembers it, he played pretty well.
"I [was] like Spike Lee," Wade said. "Is it the shoes? I don't know."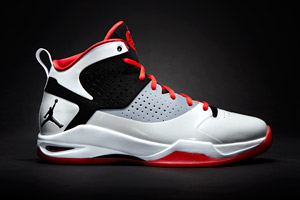 Courtesy of Jordan Fly WadeMiami Heat superstar Dwyane Wade will wear his own signature model of shoe for the NBA playoffs.
Now the Miami Heat star has his own Jordans -- as in, his own signature model under the brand: Nike's Jordan Fly Wade, which were unveiled at The Setai Hotel and Resort on South Beach (they'll be available for sale in the United States on May 5 and China on May 7).
Naturally, the Chicago native who grew up thirsting for Jordans considers the new shoe "an honor" -- especially since his family struggled to afford them in his early years.
Wade did get a few pair as his high school career progressed. But the former Converse athlete spent a long time not wearing Jordans until he switched to the brand in 2009 -- going from centerpiece of a brand to a team player, alongside fellow Jordan athletes like Chris Paul and Carmelo Anthony.
Single star to team player. Sound familiar?
Said Wade, completely aware of the on-the-court parallel: "It's kind of like coming to the NBA. You want to be the man on your team, but after a while you start wanting to win, you want to win a championship, so you decide to team up with other guys."
Speaking of which, Wade also was asked whether teaming up with LeBron James and Chris Bosh -- and the subsequent media and fan backlash -- has affected his marketability, which includes deals with (and widely seen commercials for) Nike and T-Mobile, among others.
"Not at all," Wade said. "I think that it only brings more attention. ... This is the most attention that I've ever [received] in my basketball career."
But …
"It could be higher," he said, "if we raise that trophy in June."