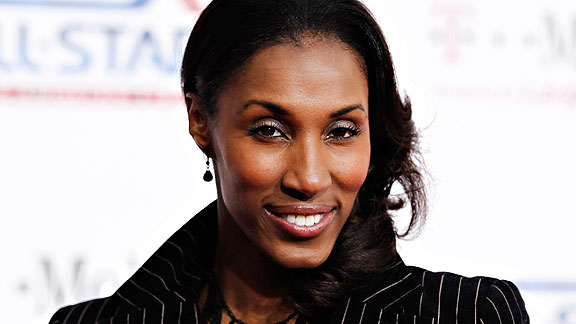 AP Photo/Matt Sayles
In the Pro's Questionnaire, our favorite sports figures take our abridged version of the most famous personality test, the Proust Questionnaire. Women's basketball legend Lisa Leslie is up. The three-time WNBA MVP, four-time Olympic gold medalist and mother of two tells us why it's tough to be a perfectionist, confesses her love of donuts and shares her life mantra.
Your main fault:
Lisa Leslie: Being a perfectionist. I really know how to do things one way and that's 100 percent. It's sometimes tough because it spreads me a little thin when it comes to my husband, my children, my work and all of my passions that I have in life.
Your idea of happiness:
LL: My idea of happiness really is a choice. Making that choice every single day, and I choose to be happy.
Your idea of misery:
LL: I've never been that person.
If not yourself, who would you want to be?
LL: I think I'll pick Oprah. She's had an interesting life.
Your favorite food/drink:
LL: Food that I should have or shouldn't have? The food I shouldn't have are donuts, which I should never have. I've been doing really well the past five years. My favorite food is Italian food.
Hero/heroine you admire most:
LL: Mother Teresa. She just really seemed to live such a wonderful life.