Welcome back to another edition of Page 2 Jeopardy!, the quiz that tests your knowledge of sports, pop culture and assorted trivia. Please remember to phrase your responses in the form of a question.
(Correct questions at the end of the quiz.)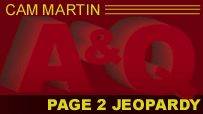 1. Answer: During a game against the Montreal Canadiens, this backup goalie on the opposing team reportedly put down a series of $5 bets with a Habs fan and exchanged the cash through a gap in the glass.
2. Answer: After this 17-year-old Canadian practiced with FC Barcelona this week, the club released a statement saying the teenager "showed surprisingly decent skills with his left foot."
3. Answer: Ben Roethlisberger was denied a request to have his wedding reception at the home of the Pittsburgh Penguins because of this.
4. Answer: The first 2,000 people to take a $4 tour of this cold-weather stadium will receive a complimentary piece of its former roof.
5. Answer: In a move that should have absolutely no effect on the number of fans who run out onto the field or end up in the drunk tank, vendors at this iconic baseball stadium might soon be allowed to sell hard alcohol.
Question 1: Who is Marty Turco of the Blackhawks?
Question 2: Who is Justin Bieber?
Question 3: What is the Consol Energy Center has already been booked for a WWE event?
Question 4: What is the Metrodome?
Question 5: What is Fenway Park?