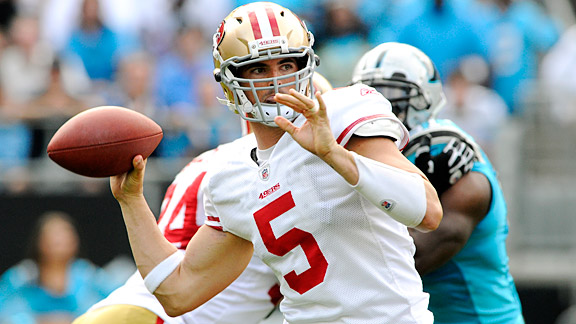 AP Photo/Mike McCarnDavid Carr, now of the San Francisco 49ers, makes Page 2's All-Spring Break Team.
It's not necessarily too late. With Easter falling in April this year, some school districts nationwide have altered their calendars to place Spring Break in a rare time frame. So pack up the car, drop $50 to fill it up and prepare to pay four times that much per night for a room in a one-star motel. It's time for our All-Spring Break Team.
Brandon Beachy: These days, life's definitely a beach for the 24-year-old Atlanta Brave from Kokomo, Ind., who defied all sorts of odds to make it to the Majors. He attended Indiana Wesleyan University, an NAIA school; he didn't pitch a lot there; and he was never drafted. But the Braves signed him as a free agent in 2008, and he struck out 228 hitters in 208 innings in the Minors before being called up last September.
David Carr: Let's face it. If you and your buddies are planning on making a pilgrimage to a distant destination, it's not particularly cost effective to fly. And then there's the romantic notion that getting there is half the fun. Sounds great until you're about six hours into a 24-hour, non-stop assault on the freeway and you realize that neither hygiene nor sleep are happening for a while. Sounds a lot like Carr's NFL career: Great promise, not so much fun. The Houston Texans made him a first-round draft pick but forgot to set him up with blockers, which is kind of like going to Florida or Texas or Mexico without sunscreen.
Anthony Drinkard: His name is one spot on the keyboard from a libel suit. So let's be clear here. He's Drinkard, not a synonym for an alcoholic. But he might have been excused if he had sought the solace of the bottle when his pro baseball career terminated after 14 games, 26 innings and an ERA of 7.18 for the Brewers' entry in the Arizona Rookie League in 2007.
"Ski" Fiske: Students in warm climes often opt for the slopes as a change of pace, but they probably wouldn't have been joined by Maximilian Patrick Fiske back in the day. He was born in the decidedly flat terrain of Chicago in 1888, and he didn't get out much. He pitched one season for the Whales, the Windy City's team in the short-lived Federal League, in 1914, and died at age 39.
Tripp Isenhour: The PGA Tour veteran made plenty of trips in his time, including several to California and Florida in March, but he hasn't been seen on a regular basis on the big tour since 2007, when he placed fifth in the Honda Classic in mid-March.
Panama Myers: In an instant in March 1990, Guillermo Myers turned Indianapolis into Panama City. Sort of. Truth be told, it's hard to confuse the middle of Indiana with the resort town on Florida's Gulf Coast, but Myers' rejection of a last-second shot by crowd favorite Purdue preserved a 73-72 victory for Texas that lifted the Longhorns to the Sweet 16 and presumably instigated celebrations in Austin.
Robert Newell: The pitcher was a teammate of the legendary Crash Davis on the 1947 Lawrence Millionaires, a Minor League team with presumably few millionaires. But he's on this list because he shares his name with Robert "Crazy Gregg" Newell, the Fort Lauderdale entrepreneur known as "The Father of Spring Break." Crazy Gregg allegedly invented the wet T-shirt contest, among other forms of debauchery, and was heavily involved in the growth of the spring break industry.
Ron Springs: There may not be as much spring in Ron's step these days, but he's still going after receiving a kidney from his friend and former Dallas Cowboys teammate Everson Walls -- ironically at the height of spring break, in March 2006. The well publicized gift is among several noteworthy facts in Springs' life. He was a teammate of Lawrence Taylor's at Lafayette High School in Williamsburg, Va., and he led ground-bound Woody Hayes' 1977 Ohio State Buckeyes in receiving. With 90 yards on 16 catches.