Seattle Mariners beer vendor Kevin Zelko had a simple idea.
What if, instead of just walking the aisles at Safeco Field, customers could use Twitter to order a beer, at @Msbeervendor?
But Zelko, who's been a beer vendor for five years, wasn't prepared for what came next. His story, his little idea, went national, and he was soon deluged with Tweets and interview requests from everywhere. Zelko, whose full-time gig is working as an elementary special education teacher in Seattle for the past 12 years, suddenly was doing three or four interviews a day.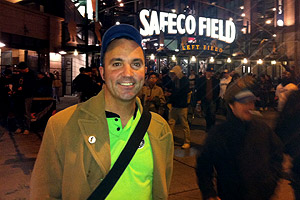 Courtesy of Kevin Zelko Seattle Mariners beer vendor Kevin Zelko has been taking orders from fans on Twitter.
And then Opening Day hit. The Mariners were honoring their beloved broadcaster, Dave Niehaus, who died in November after calling Mariners games for 34 seasons.
"It was a bigger-than-big Opening Day," Zelko said. "I did get hit with way too many people the first day."
Balancing his normal work in the aisles, Zelko said he served 45 Twitter customers. He had to turn away a few but said he served 87 percent of requests. He asked customers to "geotag" their Tweets, which shows where it was sent from, so he knew they were actually in the stadium.
Still, there were a couple of instances where someone ordered to a specific seat, only to have no one claim ownership. Zelko said that's not a problem, because he can always sell the beer within a few steps.
Saturday night, he got 30 requests and served all of them. By Monday, when the Mariners had a record-low crowd of 13,056, Zelko had seven orders. He had 12 more Tuesday night.
He said he'd donate half his tips from Opening Day to relief efforts in Japan. He ended up donating $400 of his $500 in tips, which he said was much higher than normal. The Mariners then matched his pledge, as did the Safeco vending company, Centerplate. Local radio personality BJ Shea added another $1,000.
"I turned what would've been $100 [likely his normal gratuities] into a $2,000 donation" to Japan due to Twitter, he said.
The experiment continues. But Zelko enjoys the experience with his tech customers, adding that their gratuities tend to be higher.
"They smile more than they normally do," Zelko said. "They know my name. The interaction is fun."