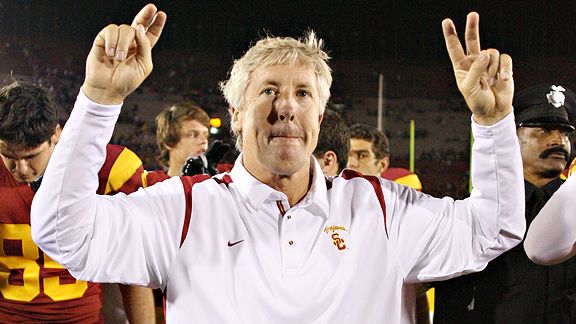 Jeff Golden/Getty ImagesPete Carroll, celebrating a win over Oregon, was seemingly entrenched at USC in 2008.
On the night Tiger Woods won his last major -- the U.S. Open at Torrey Pines, on June 16, 2008 -- it seemed a solid bet Woods would soon pass Jack Nicklaus' record of 18 major victories. At age 32, Woods already had 14 majors. Now, that bet doesn't look so solid. In that summer of 2008, the bet on Woods wouldn't have been the only one to flop. Consider:
Bet No. 1: Michael Vick will never star in the NFL again
The ex-Falcons QB was in prison and declared bankruptcy that July. Said one writer upon his conviction: "Opinions around the NFL are pessimistic about whether Vick will ever again be the world-class athlete he was prior to 2007."
Bet No. 2: The Tampa Bay Rays will collapse
The perennial last-place Rays led the AL East in June, yet many expected the Rays would falter. Wrote one columnist in July: "The Tampa Bay Rays are the feel-good story of baseball. So why is it that I still have a bad feeling about their chances?"
Bet No. 3: Pete Carroll will never leave USC
He had transformed the Trojans into a powerhouse, signed a contract extension in 2005 and said, at one point, "I can't imagine doing anything else. It's a great place to be."
Bet No. 4: It's Matt Leinart's time
The former USC Heisman winner was Arizona's No. 1 QB going into camp in the summer of 2008, but was beaten out by 37-year-old Kurt Warner -- who led Arizona to its first Super Bowl.
Bet No. 5: Greg Oden ready to star
A story on June 18 said the surgically repaired knee of the Trail Blazer's No. 1 pick of 2007 is "fabulous," and Oden is primed to be an impact player in 2008-09.