Welcome back to another edition of Page 2 Jeopardy!, the quiz that tests your knowledge of sports, pop culture and assorted trivia. Please remember to phrase your responses in the form of a question.
(Correct questions at the end of the quiz.)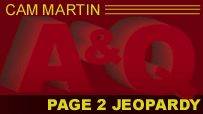 1. Answer: Proving that ignorance is alive and well in the NFL, one team official reportedly told Sports Illustrated that his organization had reservations about drafting this quarterback because he has red hair.
2. Answer: This former Arkansas basketball star, whose weight problems contributed to a lackluster NBA career, was arrested after reportedly pistol-whipping someone at a Maryland barbecue.
3. Answer: After allegedly stealing an iPod from a locker room, a football recruit visiting this SEC school was caught and arrested because he went on Twitter and wrote, "Wanna sell this Ipod/I got two."
4. Answer: A Chicago policeman and alumnus of this school is concerned that the school's new pitchfork logo will be adopted by a Chicago gang called "the Satan disciples."
5. Answer: Some fans of the Los Angeles Angels of Anaheim, offended that this player didn't sign a free-agent contract with the team this past winter, threw money at him while he was in the on-deck circle during Thursday's game.
Question 1: Who is Andy Dalton of TCU?
Question 2: Who is Oliver Miller?
Question 3: What is the University of Georgia?
Question 4: What is Arizona State?
Question 5: Who is Carl Crawford?