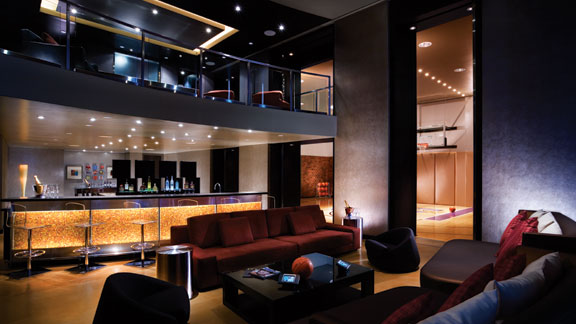 Courtesy of Palms Casino ResortHave $25,000 lying around? This suite at the Palms could be yours for a night.
WHERE THEY BUNK
Palms -- Las Vegas
In Sin City, where opulence is the norm, there's a suite so large, lavish and lush that Charlie Sheen might even think twice about sullying it: the Hardwood Suite at the Palms Casino Resort, owned by the Sacramento Kings' Maloof family. A basketball court dominates the 10,000-square-foot, two-floor crib, which comes complete with locker room, scoreboard and a slew of Murphy beds large enough for NBA players like Shaq, Ron Artest and Carmelo Anthony, all of whom have balled there with their crews. Cheerleaders can be requested for an additional fee -- or recruited from one of the casino's three clubs and two bars.
---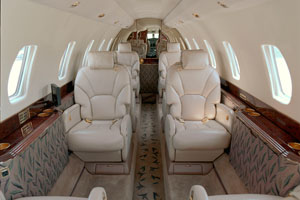 Courtesy of NetJets
HOW THEY FLY
NetJets
Athletes looking for the privacy and convenience of a team plane, minus the card-game squabbles, travel via a company called NetJets, whose 800-plane fleet can ferry them anywhere they want to go on as little as four hours' notice. The firm, which is part of famed investor Warren Buffett's vast empire, offers two plans popular among jocks: the Marquis Jet Card, which allows clients to purchase flight time, and "fractional ownership," for big hitters who wish to buy an interest in a specific aircraft (with 50 hours getting them 1/16th of the plane). NetJets handles the rest, from maintenance to pilots to an "owner-service team" that could put even a diva like Tyra Banks at ease. The most popular planes? The seven-seat Cessna Citation XLS and the midsize Citation X, with its 24-foot cabin and full refreshment center.
Recent travelers: NASCAR/IndyCar driver Danican Patrick, Yankees 1B Mark Teixeira, tennis champ
Roger Federer
---