There's always plenty of drama during the NFL Draft based on who picks who and who's left waiting in the green room.
But there's also plenty of drama when it comes to seeing the players' first official NFL cards and there's little waiting to do (unless you're getting the Aaron Rodgers treatment). In fact, Panini America, one of the NFL's two card licensees, already has that covered … as in, many of the cards are signed and ready to go.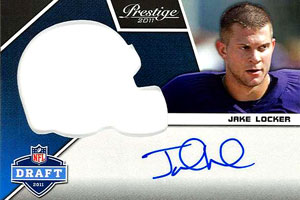 Courtesy of Panini America Where will Jake Locker go? Panini America is ready.
As in, only a helmet needs to be added.
So, when former Washington Huskies quarterback Jake Locker gets nabbed by "Team X," then that helmet gets placed into his already-autographed card seen here and will be placed into packs of 2011 Prestige football, which will be fully printed, packaged and distributed around the country to be in collectors' hands on May 18.
But that's the easy part.
There's plenty of work to be done before then for the 100 unsigned rookie cards in the 250-card set. Each and every player drafted who appears in Prestige also will have his NFL team's helmet placed onto his card along with his updated bio stating at what spot he was selected. Those cards will be printed next week.
In addition, each card for all first-round selections will all be unveiled in real time during the draft and posted on Panini America's blog for collectors to salivate over until they can scoop them up for themselves.