Throw away the ballots. No need for a waiting period. By racking up a reported -- and astounding -- £10,000 (about $16,500) in parking fines, Manchester City soccer player Mario Balotelli deserves immediate induction into Page 2's Celebrity Scofflaw Hall of Shamelessness.
Mr. Balotelli, welcome to the club. There's no parking out front. We're sure that won't be a problem. Please introduce yourself, then say hello to your classmates:
Balotelli: According to the U.K. Sun, the striker's Maserati has been impounded 27 times in the past year. Said a team source: "Mario was pulled over by the police and he had £25,000 cash on the passenger seat. They asked him why and he said, 'Because I can.'" To borrow from F. Scott Fitzgerald, the rich really are different than you and I. They have more money.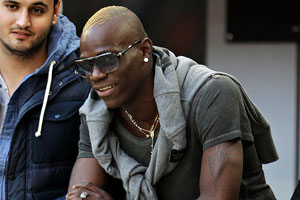 AP Photo/Luca BrunoManchester City striker Mario Balotelli doesn't appear too concerned about parking citations.
Duane Simpkins: Former Maryland basketball player was suspended in 1996 for three games after he received a $2,000 loan from a former summer league coach to put a down payment on his 285 -- note: not a misprint -- unpaid parking tickets totaling more than $8,000 in fines. Fun fact: two of Simpkins' teammates were on similar payment plans after tallying $1,100 in parking tickets between them.
Cade McNown: Along with 15 other UCLA athletes, former Bruins quarterback pled no contest to illegally using a handicapped campus parking sticker, earning a $1,485 fine, 200 hours of community service and two years' probation.
Rep. Anthony Weiner (D-N.Y.): Congressman who introduced bill to help Manhattan collect parking fees from scofflaw foreign diplomats racked up $2,180 in unpaid District of Columbia parking tickets in 2007-11; reportedly paid fees when office was contacted by the Capitol Hill newspaper Roll Call. Said a spokesman: "[Weiner] is pleased to have helped decrease the D.C. budget deficit." Touché!
Allen Iverson: According to a 2004 Philadelphia Daily News report, the former Sixers guard had $1,700 in unpaid parking tickets and had totaled $4,500 in parking fines in 2001-04, much of that from parking his Rolls-Royce in an airport garage handicapped spot for a week.
Amanda Seyfried: Actress was served with parking ticket while attending recent London movie premiere; reportedly attempted to hand ticket back to police officer while saying, "Thank you, but no thank you." Friendly Page 2 reminder: the Jedi Mind Trick does not actually work in real life.