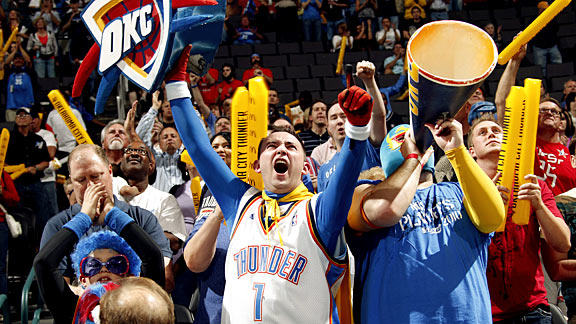 Layne Murdoch/NBAE/Getty ImagesMinnesota Twins pitcher Nick Blackburn has trouble containing his enthusiasm for the Thunder.
Minnesota Twins pitcher Nick Blackburn may be a laid back, easy-going guy in the clubhouse, but when it comes to his Oklahoma City Thunder, there's nothing mild-mannered about him. The 29-year-old right-hander, an Oklahoma native, is a self-proclaimed Thunder "super" fan.
He's had a lot to cheer about, as the Thunder lead the Denver Nuggets 3-1 in their first-round playoff series. The potential series-clinching Game 5 is tonight in Oklahoma City.
Thunder super-fandom is a fairly recent development, since the team moved from Seattle to Oklahoma City following the 2007-08 season. Blackburn wasn't an NBA fan growing up. Instead, he was a follower of college basketball and Oklahoma State. "[Before the Thunder's arrival in 2008], I couldn't have told you anything," Blackburn said of his lack of NBA knowledge.
Blackburn and his wife, Alicia, a sports fan and former basketball and softball coach, were introduced to pro basketball when the Hornets played in Oklahoma City in 2005-06, after Hurricane Katrina devastated New Orleans. The couple had a great time at a game and decided to check out the Thunder after the team arrived from Seattle. They were hooked after their first Thunder game at the Oklahoma City Arena (then the Ford Center). Last season, Blackburn invested in Kevin Durant and Russell Westbrook jerseys and the couple got season tickets in February, their first for any pro sports team.