The Bills have the third pick in Thursday's NFL draft, so we won't have to wait long to learn which poor sap will be stuck playing on a crummy team in lousy weather player they choose with their first-round pick. But when that player comes onstage for his photo op, which Bills jersey will he be holding up?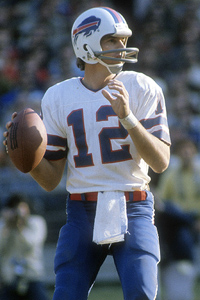 Focus on Sport/Getty ImagesWill the Bills' new unis be a new take on ones Joe Ferguson wore?
That question has been resonating in Buffalo lately, because most Bills fans have been aware that the team is slated to have new uniforms in 2011 and teams with new uni designs often unveil them during the draft. But when BuffaloBills.com reporter Chris Brown was asked about this last week, he responded, "From what I have been told the draft is NOT when the new jersey will be unveiled, despite a lot of speculation to the contrary. The unveiling of the 2011 uniforms will be later in the offseason. So the league will use the current jersey when the Bills' first draft choice is introduced."
Ah, but that was last week. Things got a bit more interesting Monday, when EA Sports released a teaser video for "Madden NFL 12" that provided a brief glimpse of the new Buffalo uni. The video was quickly taken down (and then copied to YouTube, where it was taken down again), but several fans took screen shots, which now have circulated throughout the uni-verse, and the league has confirmed that this is indeed Buffalo's new look.
As you can see, the new design is an updated version of the team's Joe Ferguson-era uniform. Might the leak of the "Madden" images prompt the Bills to change their minds about unveiling the new jersey at the draft? Hope so -- it's a lot better than what they've been wearing for the past decade.