NEW YORK -- Brothers Zachary and Yusuf Cawthon are serious about their Steelers and want it to be known.
They're hard to miss outside Radio City Music Hall, where they've been hanging out for hours before the doors open for the first round of the NFL draft, despite a steady dose of rain.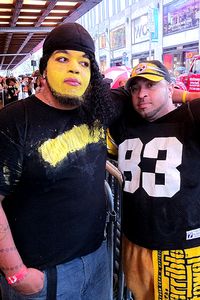 Dave Wilson/ESPN.comZachary Cawthon, left, and his brother Yusuf have attended the last five NFL drafts.
For the Cawthon brothers, it's all about exposure. That's why Zachary has his face painted yellow and is wearing what he calls "the Polamalu look" with black curly hair, while Yusuf wears shoulder pads and a Heath Miller jersey.
Yusuf, who's 40, explains: "We want to be the face of the Pittsburgh Steeler nation. We like going back to work and going back home, and people telling us, 'You guys were all over TV, like eight or nine times.'"
"This is our time to shine," said Zachary, 27. "Time to show the black and yellow in New York City, in the Big Apple."
The brothers grew up in Philadelphia and New Jersey, but their parents were from Pittsburgh, and they adopted the Steelers at an early age.
Yusuf lives in Atlanta now, where he said he's the chairman of the biggest Steelers club in Georgia, with more than 600 members. He and his brother, who lives in New Jersey, have attended the draft each of the past five years, planning early with their employers.
"I let them know in January," Zachary said.
"I told them, 'I want the Super Bowl. I want Thanksgiving, and I want the NFL draft week,' Yusuf said.
And despite the brothers bonding over football, they're not going the sentimental route, hoping for the Steelers to perhaps draft Florida's Mike Pouncey, twin brother of the Steelers' 2010 first-round pick, Maurkice Pouncey.
"That's cute and everything," Yusuf said. "But that doesn't solve what happened in the Super Bowl."
"It's nice to have brothers next to each other," Zachary said hesitantly, before saying there's bigger needs elsewhere.
So both brothers are ardent advocates for a defensive back. Yusuf thinks the Steelers will trade up and land one. Zachary thinks they'll stay with the 31st pick and grab Aaron Williams from Texas or Cameron Heyward from Ohio State.
And they know right where they'll be when it happens.
"We're the guys with the towel right in front of the camera," Yusuf said. "We're the most hardcore Steeler fans."