NEW YORK -- Thursday night will always be a memorable one for Cam Newton, becoming the No. 1 pick in the NFL draft.
Kyler Rossi likely won't forget it, either.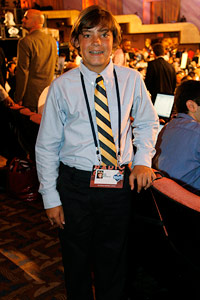 Julianne Varacchi/ESPN.comKyler Rossi, 12, is a "kid reporter" who was invited by the NFL to attend the draft.
The 12-year-old was standing in the aisle as Newton made his way to the media room after being selected by the Carolina Panthers. Newton stopped, looked down at Rossi and slapped hands with him.
The sixth-grader's mouth dropped as he turned slowly to look at his dad, like a real-time version of the Mean Joe Greene Coca-Cola commercial.
It turns out the two were acquaintances. Rossi, who entered a contest a couple of years ago for NFL Play 60 -- the league's health and fitness campaign for kids -- has been a "kid reporter" for its site, at NFLrush.com. He attended Play 60's Youth Football Festival on Wednesday, where he got to go through drills and play flag football with Newton and several of the league's top draft prospects.
Kyler and his dad were raving about the experience with Newton and the other players. "Von Miller was phenomenal," his dad, Tom, said of the Denver Broncos draft pick. "He was so nice." They were impressed with Mark Herzlich, the Boston College linebacker who overcame cancer and is projected to be selected around the third or fourth round.
"Oh, it's that guy!," Kyler said, looking up at the video screen as the Redskins selected Purdue defensive end Ryan Kerrigan. Just another one of his buddies off the draft board.
Kyler, who lives in Point Pleasant, N.J., has the Play 60 mantra down. Asked why he was interested in the program, he said, "I can stay active and fit by doing the things I love -- football, baseball and surfing." He said he writes about team rivalries or their offensive or defensive performances.
His first draft experience just further cemented the young running back's ultimate dream: "To come here and get drafted," he said.