" ... the [Atlanta] Hawks had printouts of a column by the Orlando Sentinel's Mike Bianchi in their lockers the day after they lost Game 5 101-76 at Orlando. Bianchi wrote that the Hawks are 'Team Dummy' and that 'they will always do stupid things and take stupid shots' ... Hawks coach Larry Drew said it wasn't his idea to pass out the article to the team but added, 'Certainly we can use bulletin-board material' ..."
-- A report in the Atlanta Journal-Constitution, following the Hawks' 84-81 series-clinching Game 6 victory.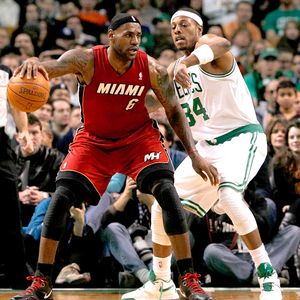 Jim Rogash/ Getty ImagesPut this on your bulletin board: Paul Pierce doesn't stand a chance in this matchup. No sir.
Team Dummy?
Really?
That's all it takes?
All this time as a sportswriter, and I had no idea how much latent, unused power was in my snarky, hastily typed words? That athletes were actually: (a) taking them to heart; (b) performing accordingly; (c) reading them in the first place?
Well, then.
To my beloved Arizona Wildcats basketball team: You guys are more like the mildcats. You see what I did there? Also, you stink, by which I mean you literally smell. Now that Derrick Williams is going pro, you will never win another game. Ever. I dub you Team Crummy. Good luck proving me wrong. Losers.
To the Boston Celtics: You're old. Decrepit. Your time is up. Is Paul Pierce's wheelchair still somewhere in the building? Good. Order a half-dozen more. You'll need them to keep up with the Miami Heat. LeBron is going to run you right out of the playoffs. I dub you Team Gummy. Get it? Gummy -- like old people with missing teeth. That's you. Do they make shamrock-green Polident? Black adult diapers to match your socks? You know I'm right -- and if you think otherwise, just try to show it on the floor. Geezers.
To the NFL and its players: Millionaires fighting with billionaires? More like morons tripping over idiots. Nine billion dollars, and you can't figure out how to share? I dub you the National Fool-Ball League. Stings, doesn't it? Together, you have zero chance to hammer out a new collective bargaining agreement and play the 2011 season on time. You are simply too stupid. You know why you don't see NFLers playing chess against inanimate footballs? Because the footballs would win. I bet you can't shut me up. Dopes.
To the Duke Blue Devils basketball team: All of you were awesome in the NCAA tournament. Just brilliant. I loved the way you played. It's obvious why Duke has such a smart student body. Really. Don't change a thing. I love you just the way you are.