All it took was 95 characters -- including spaces -- for @UFLCommissioner, aka United Football League commissioner Michael Huyghue, to make professional sports history.
"The #1 overall selection in the #UFLDraft for @theColonials is Texas A&M QB Jerrod Johnson. #UFL" … so goes his tweet.
Huyghue ushered pro football into the 21st century at 8:01 ET on Monday night as the UFL became the first pro sports league to hold its draft exclusively via social media. The commissioner announced all five first-round picks on his own feed before the coaches took over.
Inside of six minutes -- a little more than half the amount of time most NFL teams take to make a single first-round selection -- the first round of the first social media draft was done.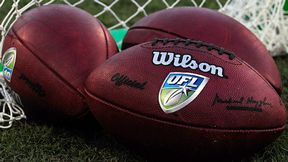 Sam Greenwood/Getty Images
It was an experiment that yielded some rather unexpected results. Consider this -- former Falcons and Oilers coach Jerry Glanville, now with the UFL's Hartford Colonials, is now a talented technology multitasker.
He talked with Page 2 by cell phone as he was about to make his team's final draft pick from his iPad.
"I'm gonna pick a defensive tackle so hang on to your hat. He's gonna be bigger than the car that you drive," Glanville said in a thick accent. Seconds later, he tweeted the selection -- Eastern Washington defensive end Keith Grennan.
The unique format gave fans a chance to interact with players during the draft.
"I appreciate the opportunity … #Blessed," tweeted former Nebraska offensive tackle D.J. Jones after the Omaha Nighthawks made him their sixth-round pick.
"Wasn't sure if I was going to renew my season tickets but now it's happening for sure. Pumped about this pick. Good luck man," tweeted Nighthawks fan Cory Quimby to Jones.
And at the end of the night -- under three hours, by the way -- the league had completed 10 rounds in the new format.
"Also watch the NFL draft but this felt more spontaneous. Less bling and more football orientated. Good job UFL!!!!" tweeted Hartford Colonials fan Dan Olver (@ctdano440). "I really [liked] the coaches' tweets after selections. Made it exciting."