If you like massive, floppy hats fit for a diva -- heck, if you like hats that practically qualify as divas (or is it divae?) themselves -- then these are heady days for you, my friend.
First, on April 24, came Easter, with its ubiquitous Easter Parade bonnets. Then, on April 29, came the royal wedding, which offered quite a hat-fest of its own.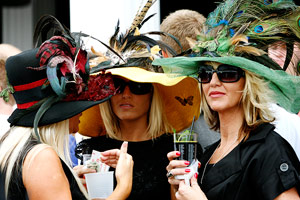 Icon SMIExtraordinary hats have always been the norm
on the first Saturday in May at Churchill Downs.
This Saturday marks the ultimate hat hullabaloo, the chapeau de resistance, the millinery maxiumus: That would be the Kentucky Derby, long recognized as a Mad Hatter's delight.
Why do women wear big, flashy hats to the Derby anyway? Here, we'll make this one multiple-choice:
A. Back in the day, women weren't allowed to attend the Derby, so some of them would sneak in by wearing men's clothing and would also wear giant hats to hide their faces.
B. Back in the day, the Derby was a high-society event, and society women always wore elaborate hats. Although the Derby has become less of an exclusive affair, the hat habit stuck.
C. If you're going to be stumbling around drunk on mint juleps, a wide-brimmed hat gives you better balance, sort of like a high-wire artist carrying a balance pole.
The correct answer, of course, is C. OK, it's actually B, but that isn't as much fun.
In any case, the main rule for Kentucky Derby hats is simple: Never get stuck sitting behind one of them.