You know what we need?
TA -- Twitter Anonymous.
"Hi, my name is Jerry and I can't stop tweeting."
"Hi, Jerry."
Of course the short conversation above was done by text message.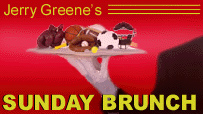 If you missed it, Mets catcher Josh Thole has deleted his Twitter account. "I thought this was supposed to be fun," Thole said. "They're ruthless on there."
I'm sympathetic but Josh does need to remember one thing: He's a Met. "Ruthless" comes with the uniform.
Here are a few actual tweets from the last week:
• Boston Globe's Pete Abraham: "Gus Johnson is funny for the last few mins of a close college hoop game. He would be an abomination on baseball. Please, Fox, no." -- Abomination, Pete? Strong word for announcing a ball game.
• NBC NFL analyst Cris Collinsworth: "I can't believe I have 7,040 Twitter mates after 3 days. This is like dating. People like me more when they can't see me." -- Nice to see someone taking a tweetshot at himself.