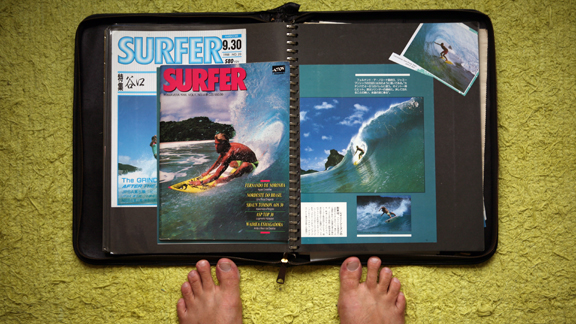 Courtesy Jamie BrisickA collection of Brisick's work in a packed-full portfolio, featuring magazine clippings, photographs and memories of a long career in surfing.
Jamie Brisick is a surfer, writer, photographer and director focused on surfing and surf culture. He competed on the ASP World Tour from 1986 to 1991 and has since contributed to surfing's media canon with his writing and photography. Author of We Approach Our Martinis With Such High Expectations and Have Board, Will Travel: The Definitive History of Surf, Skate, and Snow, his work has also appeared in The Surfer's Journal, Surfing, The New York Times and The Guardian. Brisick was awarded a Fullbright Fellowship in 2008. He currently lives in New York City.
ESPN: You started out on Tour and then transitioned into an editorial role in the surf world. How did that all happen?

Brisick:Yeah. It all happened in basically over the '90s. I was a pro surfer up in until 1991 and my career abruptly finished. At the time I just wasn't delivering the results. There was a recession and that contributed, but it was going to happen regardless. I was kind of on borrowed time. I went through this incredible crisis of feeling like my boyhood dreams were suddenly over and "What I am going to do?"
I did read a lot and I did keep journals and I was always interested in writing and fascinated by writers. I was a very different from getting a formal education. I was reading Bukowski and William Burroughs, really flavorful writers. They were very entry-level is the best way to put it. They show you this almost cliché way to be a writer -- sort of boozing and having a naked woman wandering around your bedroom. I had no idea what it actually meant to be a writer. All that stuff was my point of entry and so I started working at a magazine in Sydney called Waves. I would go to an office there three days a week and I got this sense of "team" but it wasn't rigorous investigative journalism. It was very much the bro-brah, patting each other on the back, not offending anyone. The only time we ever did anything dangerous is when we strayed from surfing. It was just a back patting, handshaking, politically-wired thing. I feel like my growth was stunted there as a writer, because I didn't know what it meant to have a subject to write about, where I had to show both sides of a story.