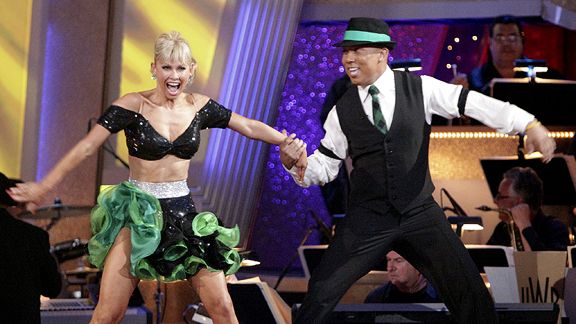 Adam Taylor/ABCKym Johnson and Hines Ward are one of the final four couples on ABC's "Dancing with the Stars".
Pittsburgh Steelers wide receiver Hines Ward and partner Kym Johnson overcame a police incident a week ago to make it to the final four of ABC's "Dancing with the Stars".
But will the duo survive Johnson's dance injury on Friday?
Johnson, who has won the "DWTS" crown before, fell during practice and hurt her neck at the end of last week. She was sent to the hospital and returned to practice over the weekend wearing a neck brace.
"I'm a little shaken up, sore, but I will be fine," Johnson tweeted. "Thank you, everyone, for your concern, love and support."
How will that neck injury affect the duo Monday night as they perform an unlearned dance and a group cha-cha-cha? Ward has been near the top of the standings for most of the season, but Disney star Chelsea Kane is coming on strong, and fan favorites Ralph Macchio and Kirstie Alley both have their followings.
"Kym is my coach, so I'm going to listen to what she says," said Ward, who is confident his team can win the mirror-ball trophy. "We work well together, and we're going to show it on the dance floor."