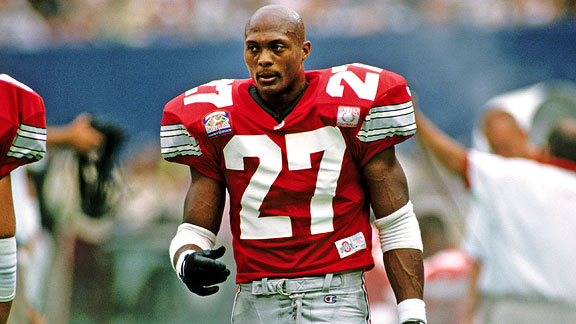 Al Messerschmidt/Getty ImagesEddie George will be inducted into the College Football Hall of Fame in South Bend, Ind., on Dec. 6.
Eddie George is a man of many talents.
Besides being the 1995 Heisman Trophy winner who played nine years in the NFL, he's an actor, restaurateur, landscape architect, businessman, reality television personality, football analyst and husband of R&B singer Taj Johnson-George.
Add member of the College Football Hall of Fame to that list.
Page 2 recently caught up with the former Ohio State and Tennessee Titans star running back by phone to talk about his Hall of Fame selection, the current investigation at his alma mater and the Madden Curse.
Here's what transpired:
Page 2: What does it mean to you personally to be inducted into the College Football Hall of Fame?
George: It's a tremendous honor. When I found out I was inducted, it brought back a rush of memories of when I was at Ohio State and all the guys who showed me how to work, guys like Robert Smith, Raymont Harris, Kirk Herbstreit and guys that I played with like Shawn Springs, Mike Vrabel, Orlando Pace and Korey Stringer. Those practices, when we were together, were harder than the games. Just to get on the field was a challenge. ... I had to go out and work harder than anybody else. Because I wasn't necessarily the fastest or the strongest or the biggest, my work ethic had to shine above everybody else just to be on par and it led to Hall of Fame career at Ohio State.
When past Heisman winners gather for the trophy presentation in New York each December, which guys are the life of the party?
Mike Rozier, without a question. George Rogers. Those two definitely get it going. It's like Fred Flintstone and Barney [Rubble]. ... Mike Rozier is who he is. He's going to speak his mind. Whether it's appropriate or not, he speaks his truth. He's always the life of the party.