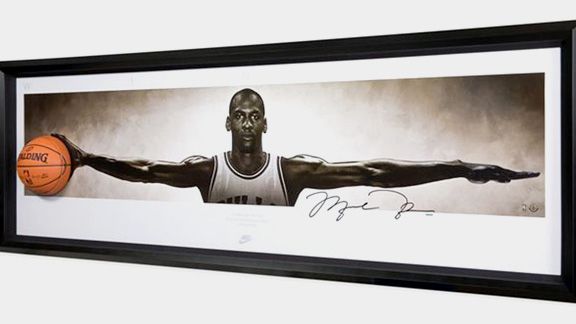 AP PhotoIt's not everyday that you end up working for a poster you had in your room.
Hard to blame Maya Moore for not remembering much about Michael Jordan's career. She had just turned 9 when he hit the Bryon Russell shot, his last great moment as a Bull -- and Moore's only lasting in-game memory of His Airness.
But Moore always knew what Jordan meant. His Wings poster adorned her wall growing up. And level to level, the UConn star-turned-No. 1 overall WNBA draft pick never forgot the things Jordan did to make himself who he was.
"I definitely looked up to him -- just as being a winner, just as someone who represented basketball," Moore said. "He really did represent basketball."
Now Moore is representing Jordan, this week signing to be the first women's basketball player attached to Nike's Jordan Brand.
Asked about being the first female baller to align with Jordan, Moore told Page 2 by phone that it's about blazing trails -- namely, exposing the brand to the WNBA and vice versa -- and bridging gaps between the men's and women's games.
"It's getting closer and closer to the same world," said the 6-foot forward, who made her name by keying their record-breaking 90-game winning streak (which included two national titles). "[There'll always be] distinctions between men's and women's basketball, but ... it's still basketball."
What this means product-wise is to be determined, Moore said. For now, the future Minnesota Lynx rookie is excited about the brand's technology and relishes the chance to join another new team. Athletes such as Dwyane Wade, Carmelo Anthony, Chris Paul and Derek Jeter carry the Jordan label, with some boasting signature shoes (Wade recently unveiled his first).
As for showing up in any commercials ...
"We haven't discussed that yet," Moore said. "It's still so new and still so early, and I'm not really sure. That would be awesome to be a part of that.
"We'll just have to wait and see."