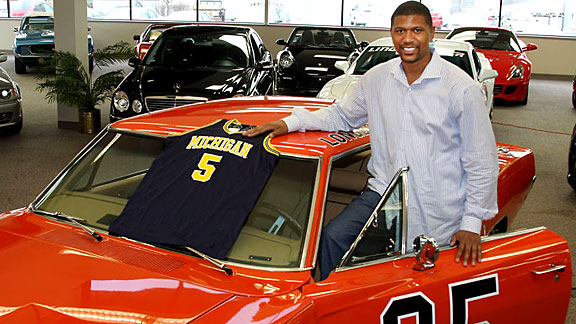 Courtesy of Jalen RoseJalen Rose bought this car in 2001, modified it and will auction it off for his academy in Detroit.
Beginning Sunday, one of the world's last surviving 1969 Dodge Chargers from "The Dukes of Hazzard" TV show will be auctioned on eBay Motors with proceeds to benefit the Jalen Rose Leadership Academy in Detroit.
The vehicle, donated from ESPN studio analyst and 13-year NBA veteran Rose's private collection, was one of the last four vehicles remaining from the set and was purchased by Rose in 2001.
"I'm a native of the Motor City. I love antique cars. That why I had to have that car," Rose said. "I have a few others in my collection, including a 1959 Bentley with the steering wheel on the right side!"
Bids will be accepted for the auction starting at noon Sunday, and the auction will run for a five-day period. It will be a "No Reserve" auction, with a starting bid of $45,000. Proceeds are dedicated to benefit JRLA, a new 9-12 college-prep charter high school on the Northwest side of Detroit, established by Rose. Scheduled to open in September, the academy will enroll 120 ninth-grade students this fall.
"I love giving back, so I would no doubt consider doing something again to benefit the Detroit area students," Rose said. "I'm just doing my part to use my reach to help influence one of the worst urban public school systems in the nation."
The iconic "General Lee" vehicle features a 360ci V-8 crate motor, four-wheel disc brakes, Alpine sound system with trunk mounted sub-woofer, custom embroidered "Charger" floor mats and white letter BFGoodrich Radial T/A tires. The rear decklid is autographed by Rose and John Schneider -- who played Bo Duke in the original series -- with personal messages.
Rose decided to customize this unique vehicle, changing the "01" on the door to his basketball number "05" and replaced the Confederate flag and General text with a nickname given to him by his grandmother, for being so tall at an early age, "Longboy."
"I was a huge fan of the TV show and especially that car growing up. Did I prefer Bo or Luke? Hey, I was interested in Daisy Duke instead!" Rose said. "And, hey, I took the flag off immediately ... for obvious reasons."