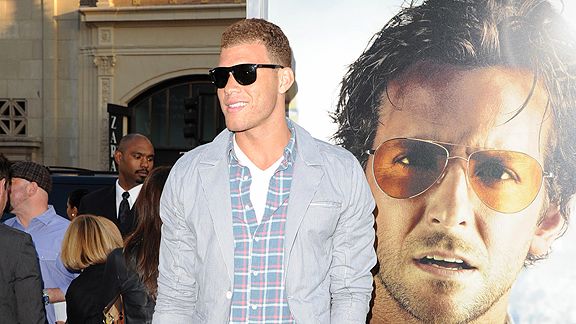 Jason Merritt/Getty ImagesBlake Griffin attended the premiere of "The Hangover Part II" last week in Hollywood.
Blake Griffin may be working on more than his dunks this summer.
Something else has been tugging at him these days that he just may make good on -- acting.
The 22-year-old power forward is still collecting high-fives for winning the esteemed NBA Slam Dunk Contest earlier this year during NBA All-Star weekend, but he's getting props these days for his acting skills. He's appeared in commercials for Subway and Kia and he appears to be a natural, unlike some of his athletic brethren.
"Maybe I'll take a few acting lessons this summer and try to get really good at it," the Rookie of the Year teases while hanging out at the 26th anniversary of Sports Spectacular, an event that benefits the Medical Genetics Institute at Cedars-Sinai Medical Center. Griffin was being toasted at the Los Angeles event alongside Lindsey Vonn, Troy Polamalu and Landon Donovan.
Griffin says he got a taste of what life might be like as a Hollywood superstar late last week when he attended "The Hangover Part II" premiere, his first major Hollywood outing.
"It was crazy. It was really cool. I have a lot of respect for actors and the things that they do, just because like I've said, I've tried to shoot a couple of commercials and it's not that easy. So to be able to see those guys and see how they do it, it's cool," he says. "I think the worst part for me is when you're on a set and there's like 30 people around and then the director ... is like, 'everybody quiet, action!' And everybody's just standing around looking at you. It's a little nerve-racking for me."
Griffin says he's befriended a couple of actors that he can call on for tips -- but he's not name-dropping who they are -- and hopes to get some advice about them should this possible post-NBA career track has any legs.
"Yeah, I'm sticking with basketball for now," he says. "Basketball is my No. 1 focus."