Heather Mitts is a soccer star, a model who was once named Page 2's Hottest Female Athlete, which she graciously calls "the highlight of a career," and is married to NFL player A.J. Feeley. She's won two Olympic gold medals, and has done extensive television work. But she's still working on fulfilling a life-long goal.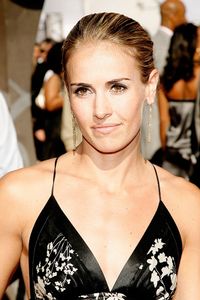 Vince Bucci/Getty ImagesHeather Mitts wants one shot at a World Cup before she's finished with her playing career.
Mitts, who will be 33 in June, was selected to the World Cup team in 2003 but suffered a broken leg. Then, in 2007, she missed her shot after suffering a torn ACL just months before the tournament.
So after being selected again this year for the World Cup in Germany, in the twilight of her soccer career, is she taking protective measures? Wrapping herself in bubble wrap until the tournament starts?
"I guess I should be,"she said, laughing, noting that she's been struggling a little with a hamstring injury. "It's obviously just frustrating at this point. I feel like I do everything possible to put myself in the right position. Hopefully all this stuff will work out, and I'll be on my way to my first World Cup."
Mitts said the Olympics were amazing, but the World Cup, held June 26-July 17, is her dream destination. And the fact that this year's Cup is in Germany, where soccer fans are so passionate, makes it even more exciting, she said.
"It's the reason why I'm still playing," said Mitts, who spoke to Page 2 as part of her spokesman role for TRX, a suspension weight-training system she uses to stay in shape during the season. "Just to be able to say that you've been a part of the World Cup. ... It's the pinnacle of our sport, and it's something I've been dreaming about since the very beginning. Soccer fans around the world appreciate the World Cup. It's the Super Bowl for us."
It's not surprising to hear Mitts make a football comparison. She's married to Feeley, a quarterback who has been in the NFL for 11 seasons, and was even a sideline reporter for ESPN several years ago on college football broadcasts, something she said she'd be open to considering again after her soccer career is over.
"Football's great to cover," Mitts said. "It's exciting, and luckily I have a pretty good teacher here at home, so that helps."