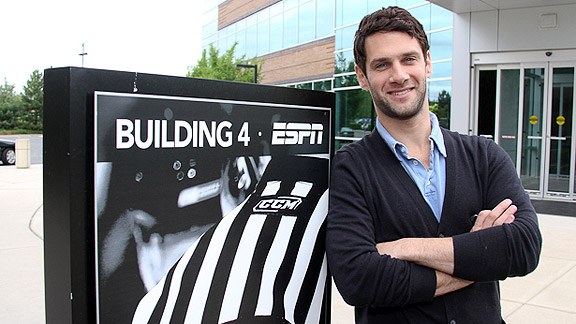 ESPN Front Row Justin Bartha visited ESPN recently to discuss "The Hangover 2" and talk sports.
Two years after starring as the missing groom in the comedy hit The Hangover, actor Justin Bartha returns with his "Wolfpack" friends in "The Hangover Part 2." The film debuted Thursday.
The original rates as the most successful R-rated comedy in film history, raking in nearly $500 million in worldwide box office. Expectations are that the sequel, set in Thailand, will be as popular.
What possibly could happen to Bartha, Bradley Cooper, Ed Helms and Zach Galfinakis' characters in this film that could top their Vegas adventures?
On his recent visit to the ESPN Car Wash and interview with Front Row, Bartha wasn't sharing many film details.
But the Michigan native and NYU grad -- who also stars in the National Treasure films with Nicolas Cage -- shed some light on why Don Mattingly no longer is his hero, what his beloved New York Knicks need to do to improve, and a possible plot for The Hangover 3.
FR: MIke Tyson's the sports icon who made a cameo in The Hangover. Is there another who will appear in "The Hangover 2"?
Bartha: Mike is hard to replace. So he actually might be showing up in the second Hangover. I can't confirm or deny, but he's the only sports guy in there.
FR: What movie would you most like to have a cameo in yourself? Bartha I can only think of dirty movies. I love old, Italian movies. Anything Marcello Mastrianni directed.
FR: Like what? Seven? Nine?
Bartha: I think it was 8½.
• Click here to read the rest of the story at Front Row, ESPN's corporate blog