INDIANAPOLIS -- "Let's hope the California Highway Patrol don't read this."
That's mixed martial arts superstar Tito Ortiz talking about cruising around Orange County, Calif. -- sometimes at about 160 mph in his new bluish/black Maserati.
"I can make it from my house to Las Vegas, which normally takes about four hours, in about three. I just love to drive fast," Ortiz boasts. "Why do you think I'm here instead of at UFC 130 in Las Vegas?"
Ortiz's mixed martial arts career is almost in his rearview mirror, and the 36-year-old former UFC light heavyweight champion is thinking about the future. He now is CEO of Punishment Athletics MMA equipment (and he proudly wore that T-shirt throughout the weekend) and just recently opened his own training center in Huntington Beach, Calif.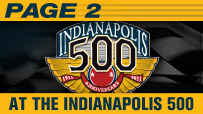 Ortiz still loves attending UFC events, such as the one Saturday at the MGM Grand in which Quinton "Rampage" Jackson beat Matt Hamill. But he flew cross-country to attend the 100th anniversary of the Indianapolis 500.
And he attended the IZOD/GQ party at the Indianapolis Museum of Art on Saturday night.
"You never know. I might take up racing myself. How would that look? I have a lot of respect for these drivers," said Ortiz, who is about 6-foot-2 and 215 pounds. "Hey, I need to do something instead of getting punched in the face."
Review of IZOD & GQ Magazine Party
Why that title? IZOD, about a year and a half ago, took over as title sponsor of the IndyCar Racing Series and has revived its brand. GQ (originally Gentlemen's Quarterly) is a monthly men's magazine focusing on fashion and culture.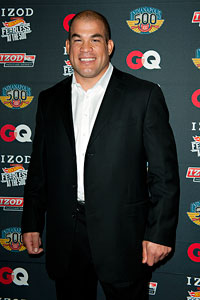 Robert Laberge/Getty ImagesMMA superstar Tito Ortiz enjoys watching racing and spent the weekend in Indianapolis.
When and where: Saturday night, Indianapolis Museum of Art.
Performers: Band of Horses are a Grammy-nominated rock band from Seattle. They performed in the amphitheater. It was raining a little as the party began. If it would have continued raining, a DJ would have played music inside until the weather cleared.
Celebrities we saw: Adrian Grenier of "Entourage," who was the biggest star on Friday's IZOD/Spin party, popped by the first 30 minutes of Saturday's party before flying back to Los Angeles on Saturday night. Yep, he made an appearance for the cameras on the red carpet and bolted. "I'm going to have to miss the race Sunday because I have some business to take care of back home," he said. Other celebrities on hand: NFL Hall of Famer Jerry Rice, Subway's Jared, "Grey's Anatomy" star Patrick Dempsey, actor Mekhei Phifer, Chris Harrison of "The Bachelor," and actors Omar Miller, Tim Daly and William Fichtner.
Celebrities who were confirmed but we didn't spot: Seal, who is singing the national anthem, didn't make it. And that meant his wife, Heidi Klum, didn't either. Darn.
Overheard: Bridget Marquardt, the former "Girl Next Door", is starting a line of Halloween clothing for women. "I've always loved the holidays and especially dressing up," she said. A female worker cattily said under her breath: "Is she wearing her line tonight?" Ouch.
Food factor: Steak, tuna, shrimp cocktail, stone crab claws and all the accompaniments. Highlight probably was the homemade strawberry shortcakes.
Best party clothes: Mario Andretti. He showed up about two hours into the party with a pullover shirt and slacks. But it was like a parting of the seas when he walked through the crowd.
Worst party clothes: It's not really party clothes. But the humidity was really high because the night began with rain. The longest line was women in the bathroom, hoping to borrow each other's hairspray.
What would a racing fan think? The skies cleared, Band of Horses played to about 200 people and the food and drink was plentiful. Mario Andretti had his own party on Saturday but he graciously stopped by and so did many drivers. It was a good appetizer to Sunday.